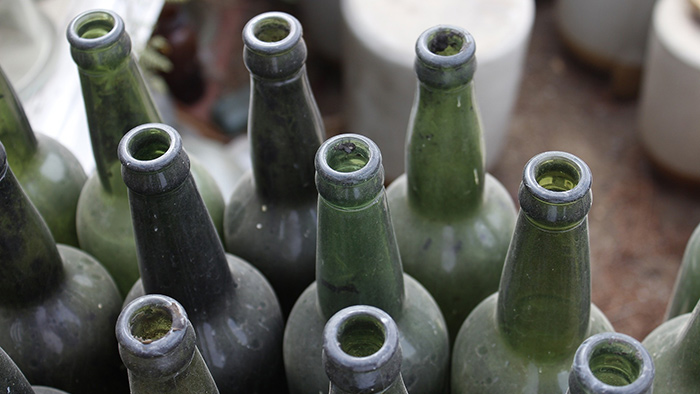 Much like brewing beer, winemaking is a process that can take quite a bit of time. It's a good idea to know how long the process will take before you get started so that you can allocate ample time for the procedure. When you finally begin to see your wine clearing up, you might be tempted to taste test it before it's ready, but it's crucial to avoid that as it takes time for the flavor of the wine to develop.
Wine Making Time Line
Here is a basic timeline to give you an idea of how long it is going to take to make wine at home, depending on how long you plan to age it.
The bare minimum time frame is about one month, although it's recommended that you wait longer unless you are using a kit that uses a concentrate instead of fresh fruit.
Basic wines usually take about five weeks, but the length of time can vary depending on how long the fermentation stages takes to complete.
The best home wines take about eight weeks before they are ready to drink if you don't plan on aging your wine after fermentation.
If you plan to age the wine, whether it is in oak barrels or bottles, the entire process can take up to six months from start to finish.
If you want to extend the aging process, then the entire process can take up to a whole year, or even longer if you desire.
How Long Does the Wine Preparation Stage Take?
It's important to remember that the preparation stage doesn't take that long; it's the fermentation and aging stages that take most of the time. It's still going to take time to get the wine ready for those stages as there is a lot of equipment and ingredients that you will need to get ready.
If you've never made wine before, you will likely need extra time, but generally, it should only take about one hour to prepare the must for fermentation. This could vary depending on how long it takes you to sterilize the winemaking equipment and crush your grapes. It is incredibly important that your equipment is properly sanitized, as skipping this step could ruin the wine and all of your work as well. If you have to carefully pick through each of the grape clusters because some of the grapes are bad, then that will add time.
If you have never made wine before, we recommend that you start with a winemaking kit, which will save you time as it typically comes with everything you need. If your winemaking kit included concentrated juice, that wine would take less time to ferment compared to fresh fruits as it will not contain grape skin.
Primary Fermentation Stage
During the primary fermentation stage, yeast is added to the must, and the yeast population will grow rapidly. There will be a lot of visual activity due to the supply of sugars, oxygen, and other nutrients. During this phase, there will be foam on top of the must, and the airlock will be bubbling. Primary fermentation can take three to five days and will produce approximately 70 percent of the alcohol.
Secondary Fermentation Stage
The secondary fermentation phase takes up to two weeks to get the remaining 30 percent of the alcohol. After the primary fermentation phase, most of the oxygen and sugar has been depleted, and the yeast population is no longer expanding. The alcohol content is so high at this point that the yeast will start to die off and will collect as a grey mass in the bottom of the fermenter.
During this phase, the foam will disappear, and the airlock will be actively bubbling. It's important to know that this phase doesn't end until the wine has completed the fermentation process, so if you still see bubbles in the airlock, then more time is needed for fermentation.
Racking The Wine Takes Time
As the must finishes fermenting, it's critical to remove the sediment left over from the yeast in the bottles through a process known as racking. This process shouldn't take all that long and involves transferring the wine from one bottle to another while leaving behind any sediment that is left over. You will also have to dispose of the sediment and resterilize the bottles, which shouldn't take too long, but it's still something to consider.
Bottling the Wine and Final Sanitization
After your wine has completed fermenting, you will want to bottle it carefully and cork it after you have sanitized everything. Although this process doesn't sound all that time consuming, you want to make sure it's done correctly as contaminating the wine this late into the process would be a disaster. Depending on the amount of wine you made, it could easily take one to two hours for the bottling process.
How Long Before You Can Drink The Wine?
Generally, it is recommended to allow the wine enough time to clear before you drink it, which could take up to four weeks, but it is common to let the wine age for up to twelve months. Some commercially sold wines are aged up to a year before being shipped to stores, but many can be purchased in as little as three months after bottling. Some wines are matured in oak barrels for a very long time, up to twenty years.