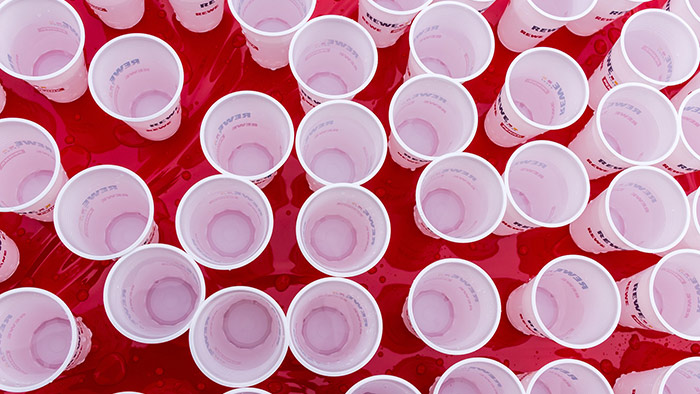 You may have been shopping around looking for a 10-gallon water cooler and come across a significant problem; there aren't many options to choose from. We scoured the internet looking for different options, and it seems that only a few manufacturers produce water coolers this large. We also found that many of the options were very expensive or lacked features that we expected on a water cooler of this size. Once we had completed our research, we discovered that we only found two 10 gallon water coolers that we recommend.
What we Considered When Choosing The Best
Our main criteria are the size of the cooler, which, as we mentioned previously, severely limited the list of coolers. The second thing we considered was the application of the cooler itself. Some of the coolers are geared towards outdoor events or gatherings, and the rest seemed to be for catering indoor events, such as weddings or cafeterias. The coolers on our list each fit well in one situation, but wouldn't be the best choice for the other. The next thing we considered was value since the features are all simple to use and are pretty similar. There were a few coolers that we excluded from our list because it didn't make sense to pay more for less.
Top 10 Gallon Water Cooler
#1 Igloo 10 Gallon Seat Top Cooler with Cup Dispenser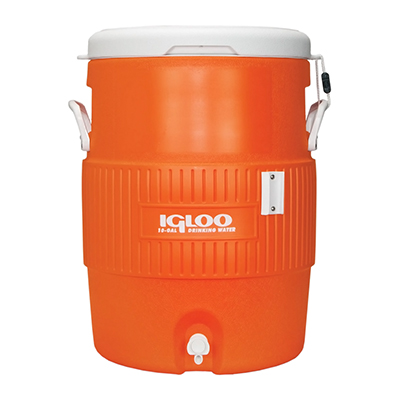 Features
High Visible Color
Large Round Cooler – 14.6 x 13.8 x 21.6 Inches
Includes Cup dispenser
This water cooler from Igloo is the perfect ten-gallon water cooler for outdoor events such as sports or camping. The highly visible cooler is visible from long distances, which helps dehydrated participants navigate their way to a revitalizing drink. The cooler can be filled with water, lemonade, or any other cold drink that you choose.
The large button spigot is easy to use compared to the small button spigots that many other water coolers have. The lid can be quickly removed so that the water cooler can be topped off with more ice or water, and it's attached to the cooler with a cord to prevent it from getting lost. Two handles allow two people to transport the cooler. Still, we don't recommend trying to move a full water cooler by yourself as it will weight over 80 pounds. When full, the cooler is so heavy that we don't recommend that you try to move it very far, even though the handles seem durable enough to withstand the weight.
This cooler does have one major flaw: Unfortunately, the cooler's insulation is only designed to keep drinks cool. It is not meant to keep drinks like coffee or tea hot.
Final Thoughts:
Overall this is the best ten-gallon water cooler for all outdoor events that require cool beverages. The price point is relatively low, and it includes a cup holder that fits cone style paper cups. Many people buy these water coolers and modify them for other uses.
Pros
Comes with a cup dispenser
Light Weight When Empty
Doubles as Storage While Empty
Cord Keeper Prevents Loss of the Lid
Large Enough to Have Many Other Uses
Great Price
Cons
A Full Water Cooler Weighs over 80 Pounds.
No Color Options, It's an Orange Water Cooler.
Designed for Cold Beverages Only
---
#2 Carlisle 10 Gallon Cateraide Insulated Beverage Server and Dispenser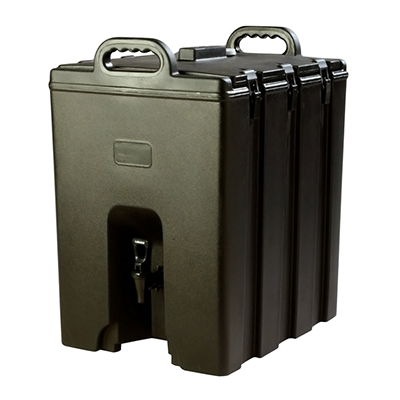 Features
Extremely Durable with Commercial-Grade Foam Insulation
Stackable if You Have Multiple Water Coolers
Lever Style, Spring Action Faucet Pours Well
If you are looking for a ten-gallon cooler for catering or indoor events, this model from Carlisle is the choice that we recommend. The main things that differentiate this cooler from the Igloo model are the ability to keep drinks hot or cold, and it's professional look. These water coolers are also stackable with other coolers, which is great for storage when empty.
The commercial-grade insulation of these water coolers allows drinks to be kept cool or hot for up to four to six hours. The handles are extremely durable and allow two people to move full coolers on to serving tables. The design of the handles and spigot allow them to be stacked, but we don't recommend trying that when the coolers are full due to their weight. The lever style spigots are easy to use, and they can be locked into position to allow the beverage to flow freely, which is useful to empty the cooler.
Final Thoughts:
The only real downside to this water cooler is that it's expensive compared to the Igloo. We liked the spigot, the ability to stack the coolers, and the ability to use the cooler for both hot and cool drinks. If you have a catering service or a restaurant, these water coolers will look great and are professional grade.
Pros
Keeps Drinks Cold or Hot for up to Six Hours
High-Quality Faucets Give a Great Pour
Comes in Four Different Colors
Two Ergonomic Handles for Transportation
Durable Construction
Cons
A Little on the Pricey Side
Heavy Even When Empty, Weights about 27 Pounds
---
Conclusion
We hope that this article helped you to find the right water cooler for whatever event that you plan on using it at.