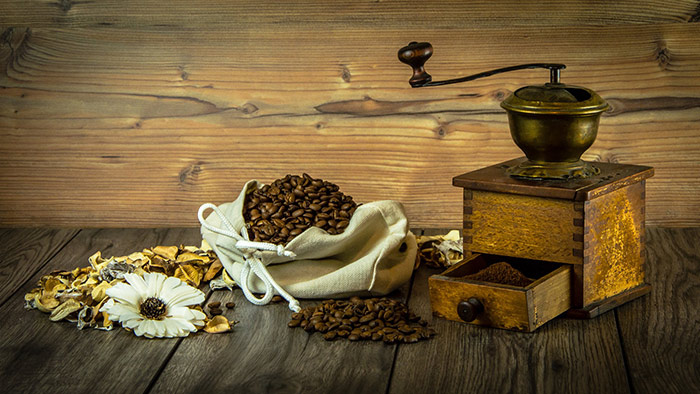 So, you've decided that you want to enjoy a cup of homemade Turkish coffee, but don't have the proper grinder. For a great-tasting cup of Turkish coffee, the Arabica beans must be ground into a fine powder. If the beans are not ground to a consistency that is similar to cocoa powder, your coffee will be ruined.
That's why getting the finding the right grinder is so important when making Turkish coffee. We've analyzed many popular grinders below, which we feel are all excellent options, and hope that our research helps you find the right grinder for your Turkish coffee.
Important Things to Consider When Buying a Turkish Coffee Grinder
One of the most important things to consider when buying a coffee grinder for Turkish coffee is the ability for the mill to be set an extra-fine coarseness setting. Turkish coffee requires the coffee beans to ground very finely, more so than any other type of coffee. Another important thing to consider is the grinding mechanism itself.
Conical burrs grind the beans very consistently compared to typical burrs or blades. It's also worth considering that many people make their coffee in the morning, and electrical grinders are somewhat noisy compared to mechanical hand grinders.
Top Turkish Coffee Grinders
#1 Wheroamoz Manual Coffee Grinder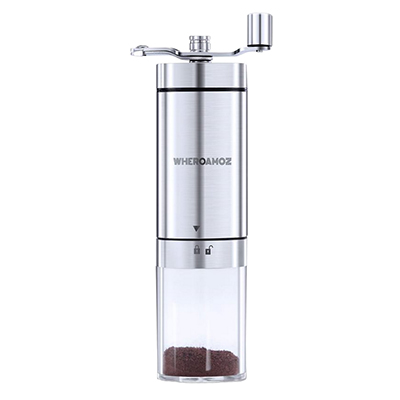 Features
Adjustable Conical Burr Grinder
Made From Stainless Steel
Easy To Clean
This coffee grinder isn't just for Turkish coffee but can be adjusted for many different types of coffee. To adjust it, simply spin the knob on the top of the grinder counterclockwise. You can easily see the consistency of the grind in through the transparent compartment at the bottom.
Being able to see the grind is useful for fine-tuning the grind setting to your desired coarseness. This grinder is quiet compared to an electric coffee mill, which is excellent if you want a cup of coffee in the morning, and people are still sleeping. This grinder is also very portable and features a removable hand crank.
Pros
The Conical Burr Grinder is Preferred for the Most Consistent Grind
Relatively Quiet Operation
Brushed Stainless Steel
Cons
Slow to Grind
Doesn't Grind a Large Quantity of Beans
Designed for Fine Grinds, not Coarse
---
#2 JavaPresse Manual Coffee Grinder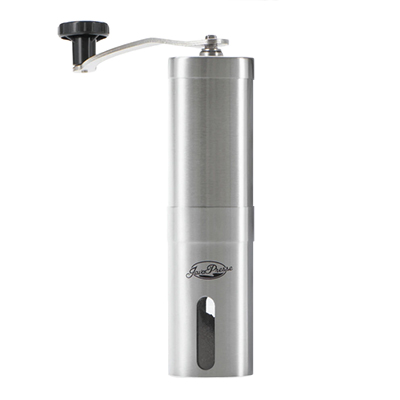 Features
Conical Burr Mill
Brushed Stainless Steel Finish
Adjustable Coarseness
This grinder from JavaPresse features ceramic conical burrs, which should last longer than traditional steel burrs while ensuring a consistent grind. There are 18 different coarseness settings, but unfortunately, the adjustment wheel is inside the grinder, making it difficult to adjust the grind once you have started grinding. The location of the selection wheel really shouldn't be an issue for most people, as once they've selected the coarseness, they aren't likely going to want to change the setting anyways.
Our only issues with this grinder are going to be similar issues that we have with all of the mechanical hand-crank style grinders. They don't grind much coffee at once, but they are highly portable, so you can enjoy freshly ground coffee anywhere you go and are relatively quiet.
Pros
Inexpensive
18 Click Coarseness Selector
Long-Lasting Ceramic Burrs
Cons
Grinder Must Be Disassembled to Adjust Grind
Filling Could be Easier
Doesn't Grind Much at Once
---
#3 Turkish Greek Arabic Ground Coffee Pepper Manuel Hand Mill Grinder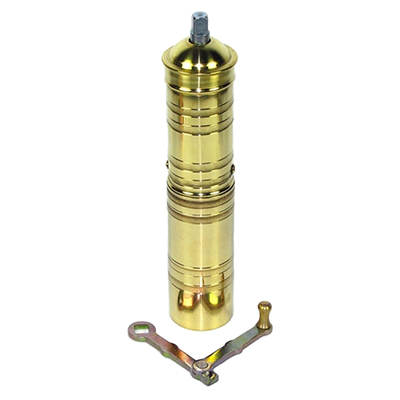 Features
Heavy Duty Brass Construction
Elegant Look
Also Makes an Excellent Grinder for Pepper or Spices
This grinder features a heavy-duty brass construction and steel burrs. The thing we like the most about this grinder is that it looks like a traditional mill that would be used to make traditional Turkish coffee. It's also a larger grinder, which helps to ensure that the grind is very consistent.
The handle folds up and fits conveniently into the hopper for easy storage. One issue with this grinder is that it can rust, so washing it is not advisable, but as long as you know that, it shouldn't an issue. The biggest issue is that you can only change the coarseness while the grinder is empty, which shouldn't be a big deal if you plan to use it exclusively for Turkish coffee.
Pros
Well Made
Excellent for Turkish Coffee
Consistent Grind
Cons
Top Heavy and Has Issues Standing Up
Can't See Coraseness While Grinding
Grinder Must Be Empty to Adjust Coarseness
---
#4 Sozen Handmade Manual Brass Coffee Mill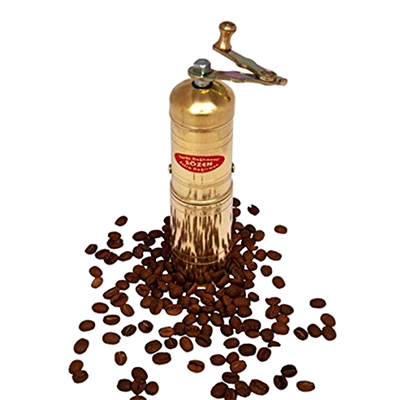 Features
Conical Burr
Hand Made
Made from Brass
The Sozen family has been producing high-quality grinders for over 120 years, and this grinder is no exception. It is highly portable and features durable brass construction. The Conical burr is designed to yield an incredibly aromatic blend that is perfect for Turkish coffee or other types of coffee that where a very find blend is desired.
There is a screw that can be turned located inside the grinder that adjusts the coarseness of the grind. Since this model is designed for fine grinds, it's not well suited to coffee that should be more coarsely ground.
Pros
Sturdy Brass Construction
Conical Burr for Consistent Fine Grinds
Portable
Cons
Not Well Suited for Coarse Grinds
Takes a While to Fully Grind
Small Knob Can be Hard to Turn for Some
---
#5 Khaw-Fee HG1B Manual Coffee Grinder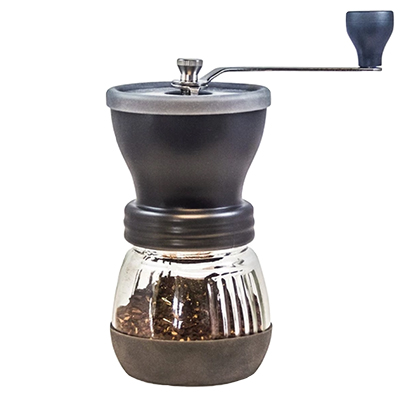 Features
Conical Ceramic Burr
Glass Collection Jar
Quiet and Portable
This grinder is an excellent choice for a variety of different coffee blends. Although this grinder is a lot slower than an electric grinder, it's also very quiet and portable. Electric grinders have a tendency to generate static when they grind the coffee beans, so the coffee grounds stick to the sides of the collection tray.
This grinder features a clear glass collection jar, which allows you to see how much coffee you have ground up and prevents static. The conical ceramic burr will consistently grind coffee beans and is very durable. The thing we liked the least about this grinder is the handle seems flimsy, and some people seemed to have issues with it.
Pros
Conical Ceramic Burr
Highly Adjustable Grind
Quiet and Portable
Cons
Handle Feels Flimsy
Difficult to Determine What Setting It Is On
Construction Looks Cheap
---
#6 Pepper Mill Imports Atlas Pepper Mill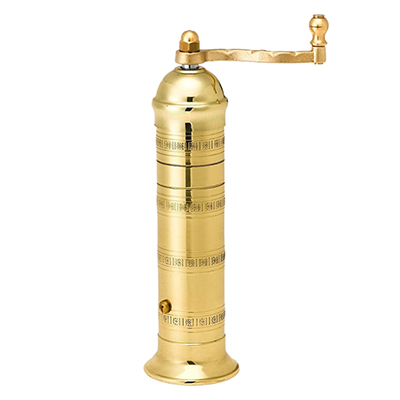 Features
Durable Brass
Looks Great
Adjustable
Although many people call this a pepper mill, it's also frequently used specifically for Turkish coffee. It's a traditional style pepper mill that is hand made in Greece. The body is made of sturdy brass, which looks and feels very solid.
Many people point out that this grinder feels substantial and is an enjoyable experience to use. One issue with this grinder is that it is not capable of coarse grinds. This is only a problem if you want to use the grinder for many different types of coffee. Overall, we find that this is a great grinder if you want to use it exclusively for Turkish coffee.
Pros
Hand Made Brass Construction
Elegant Look
Flanged Base for Stability
Cons
No Viewing Window to See Grind Coarseness
Not Very Fast
On the Pricier Side
---
#7 Capresso 560.04 Infinity Conical Burr Grinder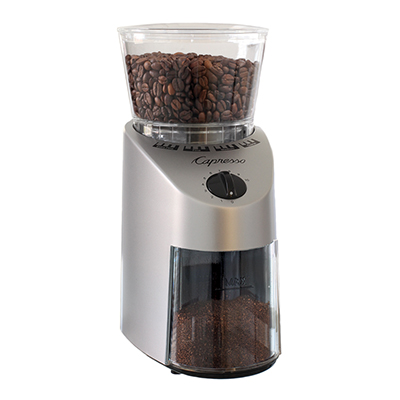 Features
Sharp Looking Brushed Silver Finish
Large Capacity
Quickly Grinds Beans
The model is an electric grinder, which is excellent for people who need to regularly grind a lot of coffee beans. As with all electric coffee grinders, it's quite noisy when operating it, and that could be a problem in the morning when people are still trying to sleep. There are 16 different settings for coarseness, but the finest setting is not quite as fine as some of the other grinders on our list.
The clear collection tray allows you to see how much coffee you have ground. This model also comes with a handy measuring spoon. There are many different electric coffee grinders to choose from, and we felt this one was a good fit for somebody looking to make Turkish coffee.
Pros
Fast Electric Grinder
Steel Conical Burr
Can Grind Large Quantity Compared to Hand Mills
Cons
Noisy
Not Portable
High Cost Compared to Hand Mills
---
Enjoy Turkish Coffee the Way It's Meant to be Made
Finding the right coffee grinder for Turkish coffee can be difficult as there are many different options to choose from. Electric models are expensive, noisy, and are not portable. Hand mills are cost-effective and can look very elegant and sturdy.
One of the most important things to consider is the burr type, and that's why we've tried out best to focus on models that have a conical burr. In our search, we also found a number are grinders that do not grind finely enough. We hoped that you enjoyed our favorite coffee grinders and that we've helped you find the right one for your next cup of Turkish coffee.