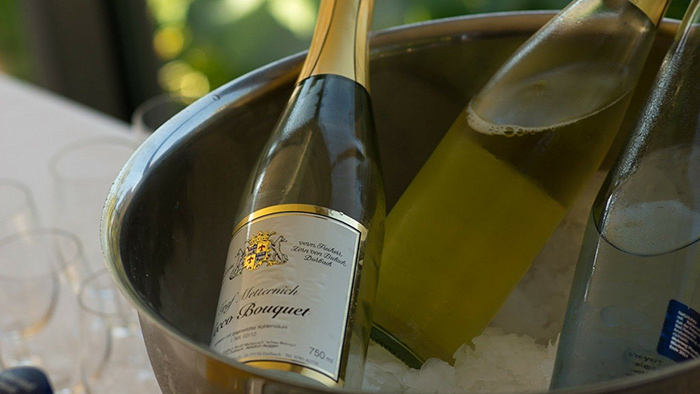 If you love wine, you know that serving wine at the proper temperature is critical. That's why many wine enthusiasts have wine cellars or large wine coolers. For many people, the cost of these units is far too expensive, and they only keep a few bottles of wine in their homes. That's why many people are searching for the best way to chill single bottles of wine.
Some people would argue that wine refrigerators are the best way to keep their wine chilled. Unfortunately, these refrigerators take up a large amount of floor space and can be extremely expensive. They're also not portable like an ice bucket, so you have to keep putting the wine bottle back in the refrigerator to keep it cool.
For a wine to taste the best, you need to be able to control the cool the bottle and keep it cold after it's been opened. People have come up with many different ways to accomplish this, from buckets to chiller sticks, let's explore your options for finding the right single bottle wine chiller for you.
The Different Types of Wine Bottle Chillers
Most Expensive: Large Wine Refrigerators
These units are expensive, and the refrigerator could easily cost more than the wine it stores inside it. Having one of these will keep your regular refrigerator from getting filled up, and you can set the temperature of the wine refrigerator to the ideal temperature. Unless you're a wine connoisseur, these large refrigerators don't make sense for most wine drinkers, who want to have a chilled bottle of wine for dinner or the occasional party.
Expensive: Small Wine Refrigerators
There are much more space-efficient versions of large wine refrigerators that are capable of storing about twelve bottles of wine. Whether it's a large or small refrigerator, they both share one big problem, and that's they typically can only be set to a single temperature setting. If you only have one type of wine in your refrigerator, that isn't going to be a problem. Still, most people have different types of wine for different occasions, so these expensive refrigerators are still not the best option for everyone.
Interesting: Electric Single Bottle Wine Chillers
The solution for many wine lovers is a single bottle wine chiller since they are small, and the temperature is customizable. They also cool wine relatively quickly, and the wine bottle doesn't take up any valuable real estate in your refrigerator. They are not the cheapest option on our list, but they are relatively inexpensive compared to the much larger refrigerators.
Novel: Wine Chiller Sticks
These sticks are inserted through the neck of the wine bottle after it's been opened. For it to work, you have to remember to put the wine stick into a freezer before you need to use it. These sticks are made of stainless steel or glass and are relatively inexpensive.
On the one hand, these chiller sticks seem like a pretty novel idea, but once you think about it, they don't make much sense. The main problem is that if you forgot to chill your wine down, then you probably forgot to freeze the chiller stick as well, so it's useless. Another big problem is that they're useless if the bottle isn't already open.
Chiller sticks are okay to maintain the wine temperature once the bottle has is open, but that's about it. Some versions come with features like an aerator, which helps to introduce oxygen into the wine and improve the flavor, and some sticks replace the cork and become a pourer.
Cheap: Wine Buckets and Chilling Sleeves
This option is probably the most common way that people chill wine. There are different varieties of buckets that come in different materials, like metal, stone, or plastic. There are also chilling sleeves, which are flexible and filled with a compound that you would usually find in an ice pack.
Some wine buckets have to be filled with ice or placed into the freezer two hours before you want to drink your wine. If you want to keep your bottle of wine chilled after opening, these buckets are another option to consider, along with a wine chiller stick.
Choosing the Best Single Bottle Wine Chiller
If you want the best wine drinking experience, a simple ice bucket will not be adequate. The chiller sticks are a neat wine accessory to have. Unfortunately, they don't cool the wine well enough unless you cooled the bottle before you opened it. We concluded that the best wine chiller must have the capability to chill both open and unopened bottles. We still have considered some other options like wine chiller sticks, as they have some useful features.
We've compiled a list of the best single bottle wine chillers and rated them, considering their cost, appearance, and functionality.
Top Single Bottle Wine Chillers
#1 Cooper Cooler Rapid Beverage & Wine Chiller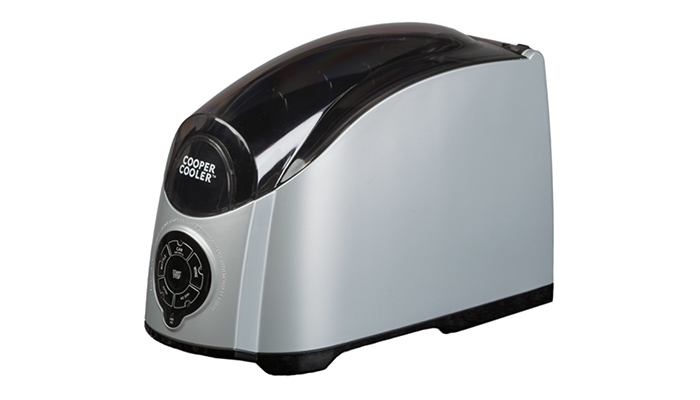 Features
Great Value
User-friendly
Chills and Warms
We have chosen the Cooper Cooler Rapid Chiller as the number one chiller for individual bottles because of the speed at which it cools beverages. Have you ever had unexpected guests visit and realize that you don't have anything cool to drink? With this rapid chiller, that's no longer an issue, as it can chill a bottle of wine in as little as six minutes.
Unique Design Results in Shorter Cooling Time
Not only will this model chill wine bottles, but it can also rapidly chill cans in about a minute. You'll be happy that you own this chiller the first time you come back from the store with a pack of warm pop or beer and want to crack open a cold one.
It will also chill beverages far colder than a refrigerator, all the way down to thirty-three degrees Fahrenheit (one-degree Celsius.) You can chill a can from room temperature to ice cold in under two minutes instead of waiting up to forty minutes by putting the canned drink in the freezer.
This device uses a unique approach to chill drinks by rotating them while it sprays them with a jet of ice water. This chilling method is why this chiller is the fastest beverage cooling appliance on the market. It can quickly chill a bottle of wine ten times faster than putting it into the freezer.
Chills Many Different Types of Beverages
This chiller is also very versatile and will chill a glass or plastic bottle up to 3.25 inches (82.55 millimeters) in diameter, which is large enough to fit most 750ml wine bottles. Although, it's not quite large enough to fit some wine bottles, large champaign bottles, or two-liter plastic bottles. You can also use this device to rapidly warm beverages by filling it with hot water (not boiling.)
Simple To Use Design Makes it Easy
It is relatively easy to use, all you need to do is put two trays worth of ice cubes and some water into the machine, load in the bottle or can, select which settings you would like, and then press start. There are five settings to choose from, bottle, can, wine, no spin, and extra. Once your chilled drink is ready, the device will automatically turn off. There's also an indicator light to remind you to add ice if needed.
Is Rotating the Beverage a Design Flaw?
You might be wondering if this chiller rotates the beverage while cooling it, won't that cause carbonated drinks to explode? The answer is no; agitation caused by shaking is what causes carbonated beverages to lose their carbonation and explode when opened. The purpose of the "no spin" button isn't for carbonated drinks; it's for odd-shaped bottles that will not rotate. You can also press the no-spin button if you have wine bottles that have delicate labels that could be damaged.
Not Without Its Cons
Now, there are some disadvantages to this unit compared to some other chillers on our list. The main one being that you can't choose the exact temperature to chill your wine. The next big issue is that many people are not going to want to fill their chiller up with ice and water each time they want to cool a bottle. The final issue is that this unit doesn't maintain the temperature of your wine after the chilling procedure completes.
Final Thoughts
We feel that the ability to rapidly cool drinks down is extremely useful and unique, which is why we recommend this device as our number one choice on our list. This unit is also very versatile, which makes it a great appliance to own.
Pros
Rapidly Chills Beverages
Easy to Use Controls
Great for Chilling Cans
Chills Bottles in About 6 Minutes
Can also Warm Beverages
Cons
No Temperature Controls
No Wine Presets
Requires Ice
Doesn't Look Professional
Noisy
---
#2 Huski Iceless Wine Cooler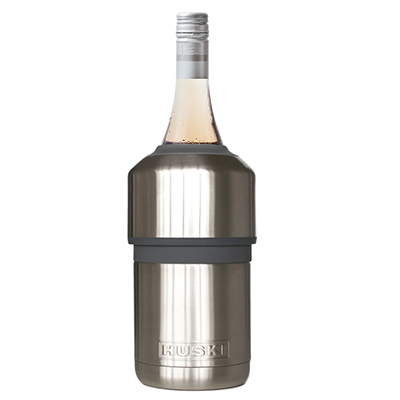 Features
Keeps Wine Cool for Up To Six Hours
Adjustable Top Section
High Quality Stainless Steel
This wine cooler from Huski is not to be confused with an ordinary wine cooler. This is the ultimate wine cooler, and it is capable of keeping a wine bottle chilled for longer than any other on our list. You will be able to enjoy your chilled wine for up to six hours with this amazing cooler.
Engineered for Superior Performance
The cooler is vacuum insulated, which dramatically helps to reduce the amount of heat that transfers out of the bottle. It also features an adjustable lid that helps to prevent heat loss from around the neck of the bottle. This design also helps prevents condensations from forming, helping your wine bottle to stay dry.
Versatile and Easy To Use
You should be able to fit almost any sized wine or champagne bottle up to 750ml, and the top section is adjustable for the height of your bottle. To use it, simply insert your chilled wine bottle into the base, screw down the top, and your wine is ready to serve. There is no need to prechill the cooler or remove the top when pouring.
Looks Great
Although the unit doesn't look like a traditional ice bucket, it's made from stainless steel and comes in four colors; silver, black, white, and rose.
Final Thoughts:
Although the Huski is one of the more expensive coolers on our list, it's worth it because It keeps your wine cool without any hassle.
Pros
Iceless
Superior Design
Looks Good
Keeps Wine Cool for up to Six Hours
Cons
---
#3 REDUCE Single Bottle Wine Chiller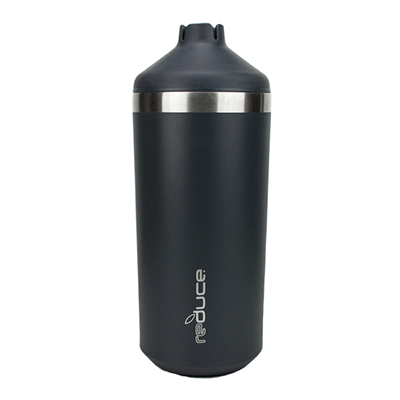 Features
Iceless Wine Cooler
Lid Prevents Heat Loss
Looks Great
We picked this model from Reduce to be the third-best chiller on our list because it features a screw-top design that prevents most heat loss from around the neck of the bottle. Like the Huski, this model is also excellent at keeping wine cool, but unfortunately, the top is not adjustable. For that reason, we prefer the Huski, since it can be adjusted to keep tall bottles cool.
Double Wall Vacuum Insulated
This type of insulation is the way to go, and it will keep bottles cooler for much longer than a traditional cooler. That also means that this cooler doesn't require ice, and it doesn't need to be chilled before use. So, once your wine is at the perfect temperature, this chiller will keep it cool for hours. This cooler design also helps to prevent condensation on the cooler.
Sturdy Construction that Fits Most 750ml Bottles
Any standard sized champaign or wine bottle should fit into this cooler, but if the bottle is taller than normal, you may need to leave the top off, as it's not adjustable. The cooler is made from powder-coated stainless steel that comes in six colors; black, blue, gold, purple, red, and satin charcoal. The base is wide and designed not to slip, which can be helpful when you are drinking wine.
Final Thoughts:
We like this cooler, which is why it's number three on our list because it's very similar to the Husky. It's well suited for most people who don't need to keep their wine cool for extended periods. Lacking the adjustable lid isn't a problem if you don't have wine or champagne bottles that are nonstandard sizes. Another thing worth mentioning is we found this cooler to be much more affordable.
Pros
Double Wall Vacuum Design
Screw Top Lid
Looks Great
Low Slip Design
Comes In Six Colors
Great Price
Cons
Can't Fit Tall Bottles
Gold Version Looks Odd, Prefer Solid Gold
---
#4 mDesign Wine Bottle Cooler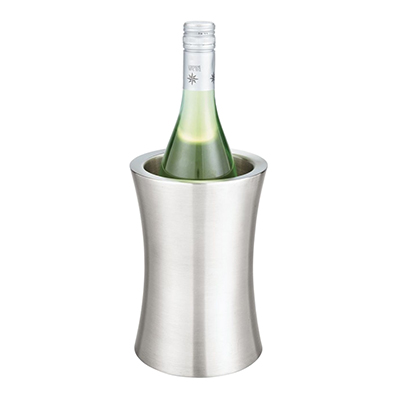 Features
Iceless Wine Cooler
Stainless Steel Finish
Simple and Effective
We looked at dozens upon dozens of different wine buckets, and this one from mDesign came number four on our list because of one reason: It looks great. This model features a modern brushed stainless steel finish that is sure to look good on any table. Not only does the design look good, but it's functional as well, as it's double-wall vacuum insulated to keep your wine cool for hours.
Does Your Wine Cooler Really Need a Lid?
Unlike some of our other choices, this cooler does not have a lid and means that warm air will be able to come in contact with the neck of the bottle. This means that this cooler isn't going to keep your wine cool as long, but that shouldn't be a problem for most people. As long as you do not keep the bottle outside of the refrigerator for hours, the design of this cooler should keep it nice and cool for a few hours. Not having a lid also means that this cooler will be able to handle taller than normal bottles. The model also takes up the least storage space out of the choices in our top four.
Final Thoughts:
This cooler is an excellent choice and isn't very expensive compared to the other options that we discussed earlier. The design is simple and effective at keeping your wine cool for reasonable amounts of time. Overall, we like this cooler because it looks great, and the lack of a lid doesn't bother us.
Pros
Great Price
Modern Look is Great
Easy to Store
Iceless
Cons
No Lid Which Allows Bottle Neck to Get Warm
---
Enjoying Wine at It's Best
Each of these models are all effective at chilling wine, allowing you to truly enjoy it's flavor.
The Cooper Cooler model is the best out of the four at rapidly cooling wine and other beverages.
The Brookstone and the two Waring Pro models are much better for wine lovers who have the time to wait for their wine bottle to be chilled to the perfect temperate.
There's nothing worse than a warm bottle of wine and whichever model you choose, I'm sure you will enjoy wine when it's served at the proper temperature.