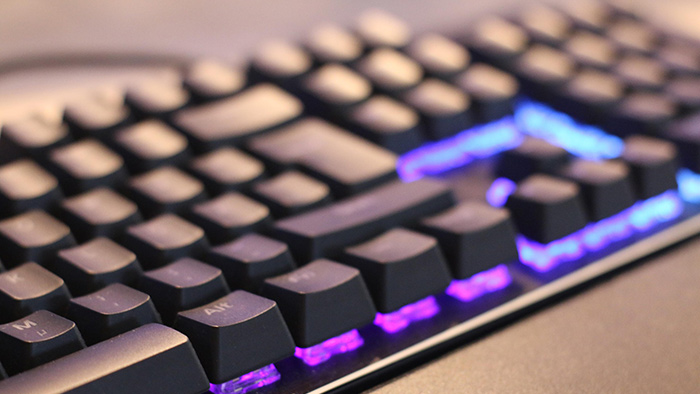 Are you tired of your old keyboard that has a bunch of extra buttons that you don't even use? TKL or "Tenkeyless" are a standard type of keyboard that lacks the number pad. These keyboards are more compact than full-sized ones and are excellent for gaming or for a home media PC.
Many eSports players and streamers prefer these keyboards as they have no use for the extra keys and want a keyboard with high-quality mechanical switches. We looked through many different TKL keyboards to come up with our top 10 list, and we are confident that all of these keyboards would make an excellent choice!
Most Important Thing to Consider When Choosing a TKL Keyboard.
One important thing to consider is the switch type of keyboard's keys. Some of these keyboards come with sought after Cherry MX switches, which are very high-quality switches with a life span of up to 50 million keystrokes.
Common Cherry MX Switch Types:
Red: Behavior – Linear, Feel – Light
Black: Behavior – Linear, Feel – Heavy
Blue: Behavior – Clicky, Feel – Heavy
Brown: Behavior – Tactile, Feel – Medium
It's important to note that all of the keyboards in this list come with high-quality switches, and many of them are made custom by Cherry for the keyboard manufacturer.
Top TKL Keyboards
#1 Logitech G Pro Mechanical Gaming Keyboard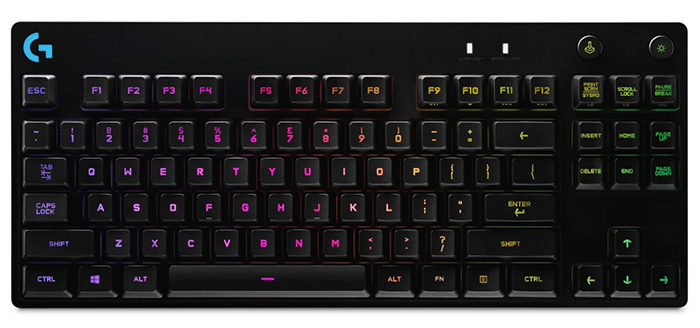 Features
Compact and Portable
Durable Romer G Switches
Detachable Micro USB Cable
I've long been a fan of Logitech's products as they generally have precision products at a reasonable price. This keyboard was designed for eSports Athletes who are competing at a high level of competition and need a keyboard with keys that actuate very quickly and cleanly.
The keystroke signal processing is designed to be up to 10 milliseconds faster, and that tiny fraction of a second is enough time to be a significant advantage in competitive gaming. It also features a lighting system that is designed to be driven by actions in over 300+ games. I really like the detachable micro USB cable, which makes this keyboard highly portable.
Pros
High-Quality Switches
Easy to Transport
Steep Angle Adjustment
12 Programmable Keys
No Batteries that Can Die
Cons
Switches are not Cherry MX Switches, but some consider to be better.
No Palm Rest
---
#2 SteelSeries Apex M750 TKL RGB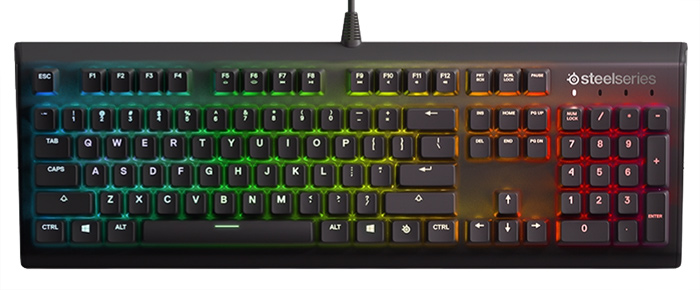 Features
Aluminum Frame
RGB LED Backlit
Linear and Quiet Switches
This keyboard features a highly durable aluminum frame, which is resistant to fingerprints, wear, and damage. The N-Key rollover means that all the keys on the keyboard are registered, no matter how many are pressed at the same time. I really like the lighting effect that the exposed keycaps produce, but the light leakage around the keys may not be for everyone.
The switches are designed to be similar to Cherry MX Red switches, but as many have pointed out, they feel slightly different. If you are looking for a simplistic TKL keyboard, with responsive keys that are designed for gaming, the Apex M750 TKL may be for you.
Pros
Durable Aluminum Frame
Per-Key RGB Lighting
Discord Lighting Notifications
Minimalistic Design
N-Key Rollover
Cons
Similar to Cherry MX Switches
Limited Lighting Responses from in Game Actions
No Media Controls
No Wrist Pad
---
#3 Corsair K65 LUX RGB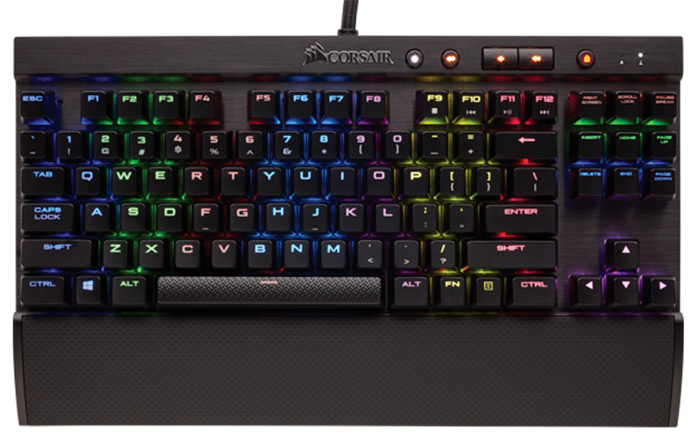 Features
Cherry Red MX Switches
Anodized Brushed Aluminum
Media Controls
This is overall an excellent TKL keyboard, but Corsair really missed the mark with the cable, which is not detachable and comes with an oddly shaped USB connector, which can interfere with other USB cables that are plugged in next to it. The way my motherboard is designed, there is very little space in between the USB ports on the back of my computer and this keyboard's USB connector would make it a very tight squeeze to plug in a USB device into the adjacent port.
I realize that this is a minor quirk, but this keyboard really does have a lot going for it other than that. The keycaps are raised off the brushed aluminum frame, there's a USB pass-through port for plugging in a mouse or a USB headset, the RGB lighting looks good, and there are media controls on the top. It also features a detachable wrist rest, which is really nice.
Another thing that I dislike is the textured space bar, which I really don't care for. The keyboard comes with extra keys that are textured, so you can replace commonly used keys in games with textured keys, but there's no untextured space bar included, which seems odd to me.
Pros
Rapidly Chills Beverages
USB Passthrough Port
Braided USB Cable
Full Key Rollover
Detachable Wrist Rest
Cons
USB Cable is Not Removable
Large USB Connector Can Make it Difficult to Plug Devices into Nearby USB Ports on Some Motherboards
Textured Space Bar
---
#4 Razer BlackWidow TE Chroma V2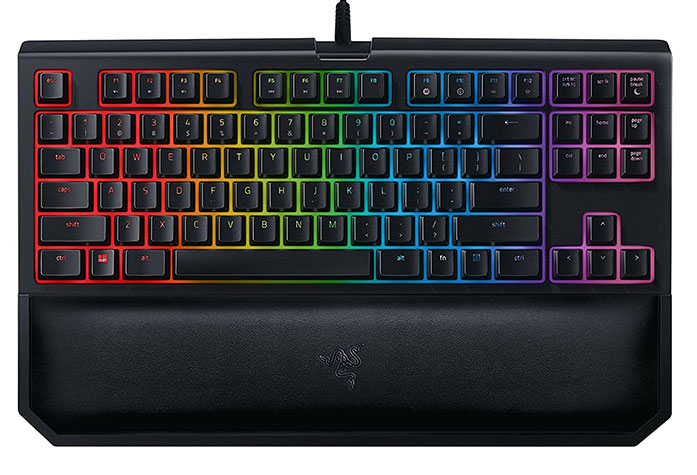 Features
Three Switch Types to Choose From
Detachable USB Cable
Designed for Pro Gamers
One thing about this keyboard that strikes me as odd is the removable wrist pad that uses magnets. It seems like it's a clever feature, since most keyboards with removable wrist pads that use plastic clips or tabs that can easily break. So, using magnets solves the problem of the breaking tabs, but unfortunately, you can now accidentally detach the wrist pad while gaming.
If you have no plans to use the wrist pad, then this keyboard is basically flawless for gaming. The keycaps are not raised off the frame, so the lighting effect of the keyboard is a little hard to see from a distance. The frame of the keyboard below the keycaps is painted white to help the light reflect back.
That means there will be much less light leakage, but it diminishes the lighting effects. The switches the keyboard uses are produced inhouse by Razor and come in three varieties, green, orange, and yellow. Overall, we really like this keyboard, but it is on the more expensive side.
Pros
Short Switch Travel Distance, Similar to Cherry Speed Switches
Detachable Wrist Rest that Attaches with Magnets not Clips
Braided Detachable USB Cable
Chills Bottles in About 6 Minutes
Can also Warm Beverages
Cons
Highest Retail Price on the List
No Dedicated Media Controls
Function Key is in an Odd Place
Doesn't Look Professional
Noisy
---
#5 HyperX Alloy FPS Pro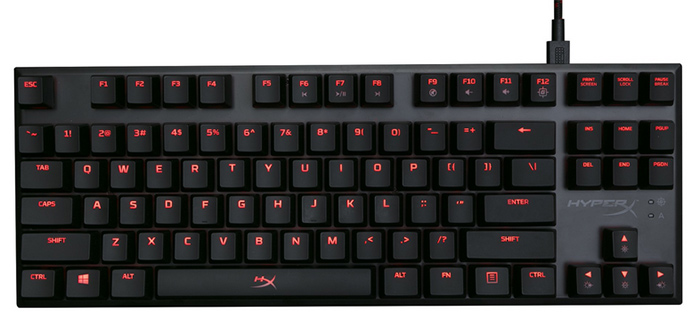 Features
Minimalistic
Cherry MX Switches
Great Value
This keyboard made our list because we feel that it's an excellent value for what you pay. If you just want a great gaming keyboard, don't want to spend a ton of money, and just want a minimalistic TKL keyboard, this model from HyperX may be for you. This keyboard has a lot of appeal to non-gamers as well, who don't really need or want a bunch of extra functionality that they're not going to use.
Another point is that this keyboard does have Cherry MX brand Red switches. Overall, this is an excellent keyboard with all of the essentials that you would need but lacks RGB lighting effects that some gamers will want.
Pros
Cherry MX Keys
Simple and Minimalistic
Highly Compact
Great Value
Cons
No Rear USB Passthrough Port
No Dedicated Media Keys
Odd Function Key Position
Lighting is Red Only, Not RBG
---
#6 CFnatic MiniSTREAK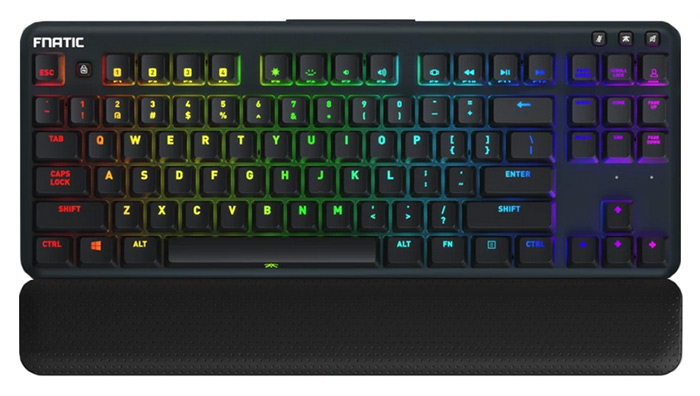 Features
Cherry MX Brand Switches
Well Thought Out Detachable Cable
Great Value
This keyboard from Fanatic is the tenkeyless version of the Streak keyboard, and we think that it is a strong contender compared to the other keyboards in our list. It definitely has the most thought out detachable USB cable. The connector has a built-in cord keeper, and the USB Type-C connector is at a right angle, both of which help to prevent the cord from being accidentally removed.
The full-sized version of this keyboard comes with a USB pass-through while the MiniStreak version does not. For me personally, I really like having the ability to plug a USB device into my keyboard, and I actually prefer the full-sized model for that reason. It also comes with Cherry MX brand switches, which make this keyboard a great choice.
Pros
Dedicated Media Keys
Detachable USB Type-C Connector
Integrated USB Cord Keeper
Detachable Wrist Pad
Competition Mode Button
Cons
Lacks Volume Controls, Mute Only
Function Key Placement
Doesn't Stand Out Enough Compared to Full Sized Variant
---
#7 Cooler Master MK730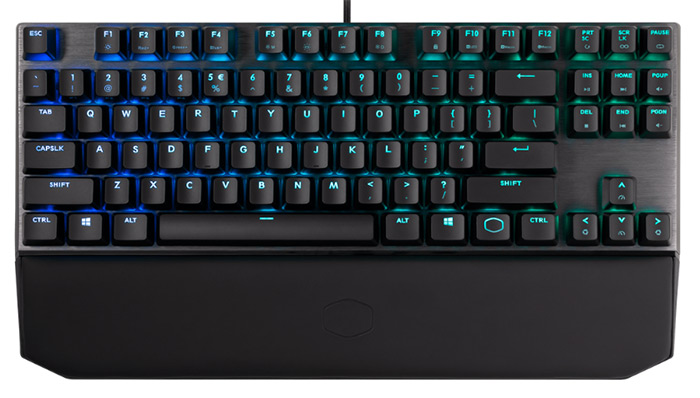 Features
Great Value
Cherry MX Brand Switches
Simple and Practical
This keyboard also features a relatively good detachable USB cable design. The cable has a built-in cord keeper that can be used to channel the cable directly out the back, or through the back-right or the back-left of the keyboard. The aluminum backplate helps to add rigidity to the board and gives it an excellent quality look.
Without the detachable wrist pad attached, the front edge of the board that would typically face you looks like cheap shiny plastic. It was probably designed that way so that the detachable wrist pad can affix itself to the board easily using internal magnets. The problem with that is that it doesn't visually match the rest of the keyboard.
The big pro of this keyboard is that it uses Cherry MX brand switches and has all of the functionality that you would expect from a high-end gaming keyboard.
Pros
Braided Detachable USB Cable
Detachable Wrist Rest
Brushed Aluminum Back Plate
Included Keycap Puller
Cherry MX Brand Switches
Cons
Magnets That Attach Wrist Rest Could be Stronger
No Dedicated Media Keys
---
#8 DREVO Excalibur 84-Key

Features
Includes Dust Cover
Detachable USB Cable
Slightly Smaller Design Saves Space
This keyboard goes slightly further than a tenkeyless design and is an 84-key keyboard, also known as a 75% width keyboard. Whether you like the 84-key design is going to depend highly on your personal preference. Instead of the arrow keys and the delete/page up/page down key cluster being separate from the main section of the keyboard, they are directly next to the primary key group.
The big advantage is that by relocating those keys is that it frees up even more space for your mouse. For gamers that like a low mouse sensitivity and a large mouse surface, that can actually be a significant advantage. The disadvantage is that using the keyboard functions can sometimes be slightly more complicated, and there is a little bit of a learning curve.
Pros
84 Key Design Gives More Mouse Space
All Aluminum Frame
Simplistic Design
Cherry MX Switches
Cons
No Included Wrist Pad
No Rear Inclination Adjustment
No RGB, White LED Lighting Only
Odd Font on Keys
Right Alt and Controls are Tightly Clustered
---
#9 Cougar Puri TKL1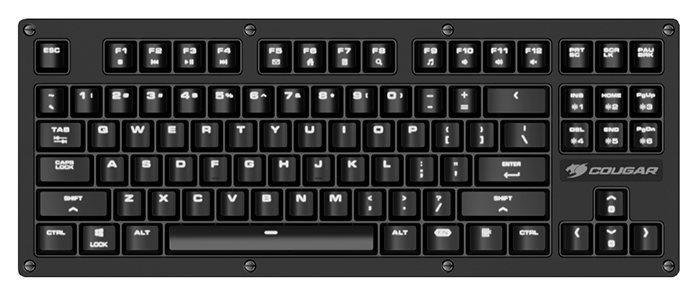 Features
Cherry MX Switches
Quality Dust Cover
Braided Detachable Cable
Overall this is a great keyboard gaming, but unfortunately, it lacks RGB lighting and only has white LED-backlit keys. The cable is a detachable braided USB cable that has three wire channels. The detachable dust cover is a really nice feature if you live somewhere that's dusty.
The cover attaches to the keyboard with magnets and making it great for traveling. Since the keycaps are not raised above the frame, it will be slightly harder to clean than some of the other keyboards on our list. It comes in a slightly lower price point than the other keyboards on the list, making it a worth-while option.
Pros
Dust Cover that Attaches with Magnets
Cherry MX Switches
Detachable Braided USB Cable
The Backlight has 3 Brightness Levels
Cost-Effective
Cons
No Included Wrist Rest
White LED Backlight, no RGB
No Dedicated Media Buttons
No Software Support For Macros
---
#10 MSI Vigor GK-70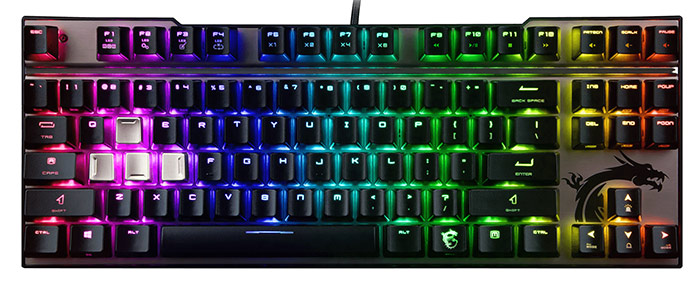 Features
Cherry MX Switches
RGB Backlit Keys
Works with MSI Mystic Light Technology
This keyboard by itself is good, but there's one thing about it that makes it really interesting. I feel that it's kind of a gimmick, but if you happen to have an MSI motherboard, you can synchronize the lighting effects with MSI's Mystic Light technology. It features Cherry MX switches and a braided USB cable that is removable.
One thing that I didn't like about this keyboard is that it comes with silver metallic WASD keys. Now, they do give you the standard WASD keys if you want your keyboard's keys to have a more traditional look.
They also include some extra keys that do not indicate which letter they are but have a grippy texture to them. One minor issue with this keyboard is the text and symbols on specific keys are somewhat strange. As an example, the shift keys, there is a number 1, and the function key the symbol is a dragon.
Pros
Metallic Back Plate
Braided Removable USB Cable
Integrates with MSI Mystic Light Technology
Cherry MX Switches
Cons
Comes with Silver Metalic WASD Keycaps that Can be Replaced with Included Keycaps
No Dedicated Media Keys
No Included Wrist Pad
Strange Symbols on Certain Keys, Such as Function
---
Enjoying Gaming With the Best TKL Keyboard
Finding the right TLK keyboard can be difficult as all the manufacturers have created slightly different products to try to appeal to people's distinct desires. Having a detachable USB cable is has a great benefit as it allows you to quickly swap out keyboards without having to disconnect the cable from the back of the computer. High-quality key switches are also essential, but the different options available are mostly preference.
RGB lighting is a feature that some people really have no use for and don't care about. We hoped you enjoyed our favorite tenkeyless keyboards and that we've helped you to find the right one for you.