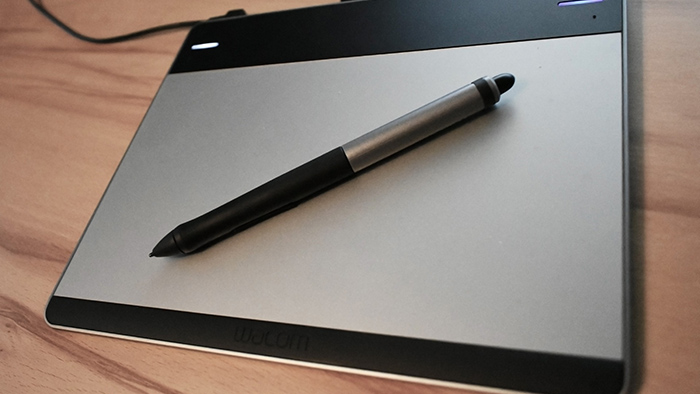 Portable computers have come a long way, from large bulky devices that were difficult to operate, today's devices are small, light, and easy to use. The technology has come such a long way that many people who draw or enjoy creating artwork, are using tablet devices instead of traditional art supplies. The ability to use the stylus to quickly draw, erase, and colorize a piece of art has never been easier and more accessible.
Using an Android-based tablet is also a big step forward from the older style drawing tablets because you can see what you are drawing on the tablet. It may not be obvious, but drawing on a computer used to take a lot of practice because the experience was so different than drawing on paper. Another reason that these tablets are so appealing is that they're also a handheld computer that can be used for many other tasks.
Android Drawing Tablets Buying Guide
Price:
The main reason that people should be considering an Android tablet over an Ipad Pro is that the Android based tablets typically only cost a fraction of the price. Adding an Apple Pen can cost you up to another hundred dollars, whereas many Android tablets come with one. The Ipad Pro's Retina screen is beautiful because of its super high resolution, but it's not necessary and is one of the main reasons those devices cost so much more.
Screen Size:
Another thing to consider is the size of the screen itself. Many of these tablets have optional screen sizes, and although larger screen sizes do cost more, they are more desirable for drawing as there will be more surface area to draw on. Although some of the tablets on our list do have 8-inch screen size versions, we only considered models that had 10-inch screens.
Resolution:
The screen resolution is also an important factor as tablets with low screen resolutions will limit the amount of canvas that is available to draw on without zooming out. Having a high resolution is important as many of the apps, such as Adobe Illustrator Draw, have toolbars that take up the valuable screen real estate.
Must-Have Pen Support:
It's important to remember that not all tablets support pens, and we didn't consider any devices that lacked screen pressure digitizers or didn't support active pens. It's important to know that when shopping for an Android tablet for drawing, you really should aim for a model that comes with a pen as that guarantees that the device supports using a pen.
Memory and Storage Space
The amount of memory on these devices probably doesn't matter as much as you think that it might. Most of the models come with 64GB of storage, and that really should be adequate for most people as you can store your artwork on cloud-based storage. Another thing to consider is that all of these devices have a slot to add storage with a micro SD card. With the price for 128GB MicroSD cards being as low as it is, it's a great idea to add some extra storage. We do recommend that all tablets should have at least 4GB of memory so that the applications that you want to use load and run smoothly.
Top Android Tablets for Drawing
#1 Samsung Galaxy Tab S6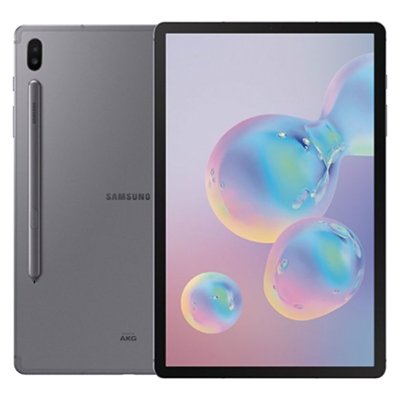 Features
Includes Large Comfortable S Pen
10.5 Inch AMOLED Display
Fast and Powerful Hardware
Currently, the Samsung Galaxy Tab S6 is hands down the best Android tablet that Samsung manufactures. This high-end tablet comes with an included S Pen and is geared towards professionals. With an optional detachable keyboard, this tablet doubles as a full-blown PC.
The included S Pen attaches to the bottom of the device via internal magnets for wireless charging. Although you can use the pen for drawing without charging it, some features of the pen do require it to be fully charged. Although the internal magnets are strong enough to keep the pen attached to the tablet, it is still possible to bump the pen and knock it off the device.
The Tab S6 has the best drawing experience out of any of the Android based tablets due to a larger stylus and the ability to swap the stylus nibs (the tips) with ones that have slightly different feels. Some nibs are designed to feel smooth while others grip the surface of the screen slightly, which provides tactile feedback when drawing. Another thing that makes drawing on this device so enjoyable is the large 2560 by 1600 pixel screen.
Specifications
OS: Android 9
CPU: Qualcomm Snapdragon 855
RAM: 6GB (8GB Optional)
Storage: 128GB (256GB Optional)
Display: 10.5 inches
Resolution: 2560 x 1600
Size: 9.6 x 6.3 x 0.2 inches
Weight: 0.95 pounds
Final Thoughts
The Tab S6 is currently the flagship tablet model from Samsung, and it's no a brainer why it made the top of our list. The included S Pen is larger and is much more comfortable to draw with than your standard tablet pen, which is smaller and can cause hand pain during long drawing sessions. The only downside to this device is the high cost, which seems low when compared to similar devices from Apple.
Pros
High-Quality Hardware
Screen Looks Great
Long Battery Life
MicroSD Card Slot – Up to Additional 512GB of Storage
Aluminum Chassis is Resistant to Damage
Cons
Lack of Headphone Jack
Most Expensive Tablet on the List
S Pen Requires Charging for Certain Applications
---
#2 Samsung Galaxy Tab S4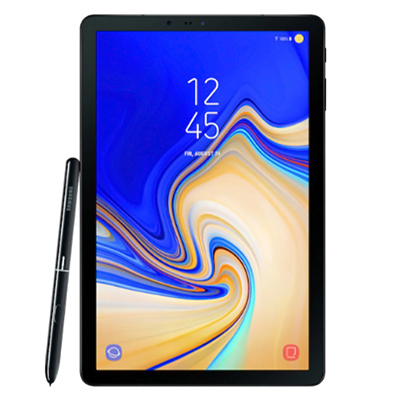 Features
2,560 x 1,600 Screen Resolution
S Pen Has 4,096 Levels of Pressure Sensitivity
8 Core Processor
The Tab S4 is a scaled-down version of the Tab S6 that has only 4GB of memory and the slower Snapdragon 835 CPU. This device is still plenty fast for most applications, but when comparing the prices of the S4 and S6 together, it almost seems hard to justify not spending more and going for the Tab S6. One thing that is shared between the two models is the screen resolution and dimensions, so if you loved the screen of the S6, but are just shy on your budget, the S4 might be right for you.
One of the things that bothered us about the Tab S6 was the placement of the magnetic S Pen charging port on the bottom of the device. We were concerned that it was possible to knock the pen off of the device easily and possibly lose it. That's not an issue with the Tab S4 because the pen doesn't need to be charged, but there's one big problem; there's nowhere to put it unless you have a case with a pen holder.
Even with the specs being scaled down, if you plan to use this tablet exclusively for drawing, the device should be powerful enough to run any of your favorite apps. 64GB of storage is definitely on the smaller side unless you store your work in the cloud, so you may want to consider adding an SD card for additional capacity. The included S Pen is still a big improvement over the small pens that many other devices come with, and you shouldn't need to replace it with an aftermarket pen unless you lose it.
Specs
OS: Android 8.0 Oreo
CPU: Qualcomm Snapdragon 835
RAM: 4GB
Storage: 64GB (256GB Optional)
Display: 10.5 inches
Resolution: 2560 x 1600
Size: 9.8 x 6.5 x 0.28 inches
Weight: 1.1 pounds
Final Thoughts
We like this device as it's basically a scaled-down version of the Tab S6, we are just a little confused as to why anyone wouldn't opt for it instead of this model. It's not much less money, and unfortunately, you seem to lose a lot of performance, memory, and storage capability. None of that may be an issue for you if you plan to use the device exclusively for drawing, but most people are going to interested in these tablets due to their flexibility.
Pros
Screen Looks Great
MicroSD Card Slot – Up to Additional 400GB of Storage
Pen Doesn't Require Any Charging
Cheaper Than Tab S6
Cons
64GB of Storage Might Be Small for Some
Nowhere to Put the Pen
Keyboard Case w/ Pen Holder is Expensive
Too Similar to Tab S6 and Not Cheap Enough
---
#3 Samsung Galaxy Tab A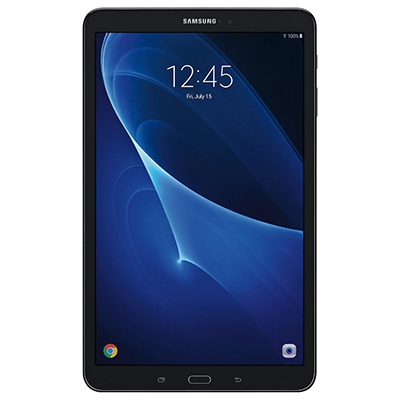 Features
Built-In Li-Ion 7,300mAh Battery
Full HD 1920 x 1200 Resolution w/ Borders
Only One Tab A Version Comes w/ S Pen
Before we get started talking about the Samsung Galaxy Tab A, we feel that it's critical to point out that there are two different versions of this tablet, one that comes with an S Pen, and one does not. You might be thinking that you could save some money by buying the version without the S Pen and then buy the S Pen separately, but that will not work. Unfortunately, the Tab A version that does not come with the S Pen does not include a digitizer for the S Pen, and there is no way to add one.
With the S Pen debacle sorted out, we also wanted to point out that included S Pen is physically small, and it can be challenging to draw on this device for extended periods. So if you plan to draw on this device for short sessions and want to use it more of a mobile media player, then this tablet might be right for you. Although slower than the other two Samsung tablets, this device is still capable of running most apps, but it does lack in gaming performance.
One of the biggest drawbacks of this device is the lack of internal storage. 16GB is not a lot, especially if you end up taking videos that can quickly eat up a lot of storage space. Even if you don't plan on doing much but streaming movies with this device, we still recommend adding on at least 128GB of storage (256GB max) via the MicroSD card slot.
Specs
OS: Android Marshmallow
CPU: Exynos 7870
RAM: 3GB
Storage: 16GB (256GB Optional)
Display: 10.1 inches
Resolution: 1920 x 1200
Size: 10.0 x 6.11 x 0.32 inches
Weight: 1.16 pounds
Final Thoughts
Although the device is much cheaper than the previous two Samsung tablets on our list, we feel like you need to add on the cost of a 256GB microSD card on to the price. It's also unfortunate that not all versions of this tablet come with the S Pen as the version that comes with it is substantially more money. Overall the device is fast enough for most people to use for watching streaming movies or browsing the web, but the included S Pen isn't very comfortable to use to long drawing sessions.
Pros
MicroSD Card Slot – Up to Additional 256GB of Storage
Durable Aluminum Case Looks Sleek
Much More Budget Friendly Than Tab S4 & Tab S6
Great for Drawing and Applications Besides Gaming
Cons
Only 16GB Storage, the MicroSD Card Feels Mandatory
Much Cheaper Than Tab S6, but Must Buy w/ S Pen
CPU is Lacking for Gaming and Certain Applications
The Device Seems Much More Oriented Around
Watching Movies Than Productivity
---
#4 Simbans PicassoTab 10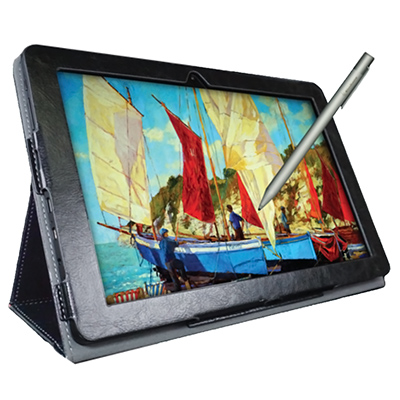 Features
1024 Levels of Pressure Sensitivity
Active Pen Support
10.1 Inch Display
This tablet from Simbans is extremely affordable compared to the other tablets on our list and is excellent for taking notes or drawing. This device is plenty fast and won't break the budget if you only plan to use it for drawing, browsing the web, social media, and checking your email. On Wifi, it will basically provide the experience that most midrange smartphones do with a much larger screen.
We've decided to review this tablet as a bundle rather than just the tablet itself. With the bundle, you get a pen and a case along with the tablet. That's a lot of value considering the cost of the tablet itself, and the only thing that we recommend is adding a 64GB or 128GB MicroSD card. The pen included in the bundle is also a nice pen that is much larger in diameter than the pen included with the Samsung Tab A.
The two most significant things that we didn't like about this tablet are the screen resolution and the processing capability of the hardware. Even though the CPU is adequate to play streaming media, the resolution is too small to display 1080 full HD video, which is a real bummer. The CPU is going to be sluggish while working in certain apps, and you're probably not going to playing anything besides simple games on this device.
Specs
OS: Android
CPU: Quad-Core MTK8163
RAM: 2GB
Storage: 32GB
Display: 10.1 inches
Resolution: 1280 x 800
Weight: 2.91 pounds
Final Thoughts
The PicassoTab 10 is a cheap drawing tablet, especially compared to the Samsung Tab S6, but it does come with everything that you need for drawing and note-taking. One thing that's nice about devices in this price range is that they see a lot of use as people aren't afraid to scratch or drop them. Since the tablet runs Android, it's also usable with a bunch of different apps, but the performance just isn't there to consider this a good tablet for entertainment.
Pros
Great Price
Designed as an Android Drawing Tablet
MicroSD Card Slot – Up to Additional 128GB of Storage
Bundle Comes with Pen and Case
Cons
Hardware is Very Performance Limited
Low Screen Resolution of 1280×800
---
Conclusion
We hope that you enjoyed our review of these tablets and that we helped you find the right model for you.