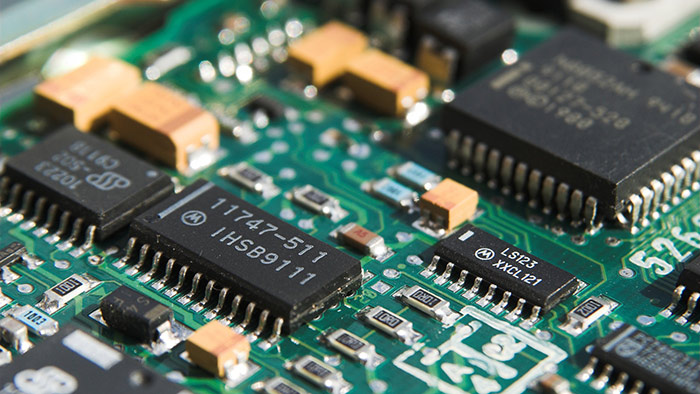 The AMD Ryzen CPU platform has been available for a while now, and prices are starting to come down to a level that makes the platform affordable for most people. The B450 chipset provides an excellent base for building a high-performance desktop computer without breaking your budget. Whether you are building a gaming PC or a budget workstation for productivity, let's take a look at the best B450 ATX motherboards.
Common Specifications
It's important to note that all of the motherboards on our list have many features in common. We will not be going over those features repeatedly throughout the article, so it's important to understand what to expect with all of these motherboards.
CPU Socket: AM4 Socket 2nd Gen AMD Ryzen/1st Gen Ryzen/Ryzen w. Radeon Vega Graphics Processors
Chipset: AMD B450 Chipset
Memory Slots: Four Dimm Slots, Max 64-128 GB of RAM
PCI-E 3.0 X16 Slot: Included
PCI-E 2.0 Slots: Two or More
M.2 Slots: One or Two
Onboard Audio: Included
Integrated Ethernet: Included
RGB Lighting: Included
Top B450 ATX Motherboards
#1 ASUS ROG Strix B450-F Gaming Motherboard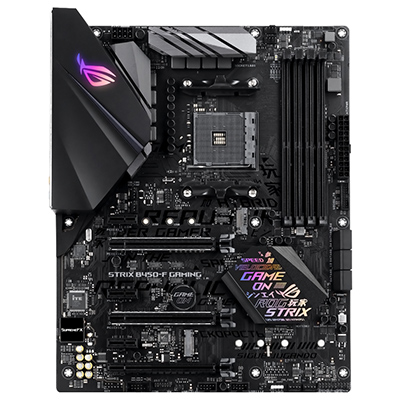 Features
Integrated SupremeFX S1220A 8-Channel Audio
SafeSlot PCI-E 3.0 Supports 3-Way CrossFireX
2x M.2 Type M Expansion Slots
At the top of our list is the Asus ROG Strix B450-F Gaming motherboard because of its combination of features and relatively low price point. Compared to the other boards on our list, this model isn't lacking anything and doesn't have any odd features that we thought were unnecessary. Since many of these boards are all very similar, we feel it's only important to point out the features that stand out.
One thing that we like about this board is the integrated IO shield that looks professional. One thing that we've always disliked is those flimsy metal IO shields that never seem to fit your case or IO ports properly. You also get all of the IO ports that you would expect, including HDMI 2.0, display port, one USB type C, and two USB 3.1 Gen 2 ports, which are capable of up to 10Gbps.
Little touches like having two additional headers that work with the Aura Sync RGB lighting are why we like this board so much. The board also has integrated HD audio through the Supreme FX S1220A, which you will only find of Asus's line of ROG motherboards. There are also two M.2 socket expansion slots for the newest super-fast NVMe SSDs and six 6Gb/s SATA ports, four of which support Raid 0, 1, and 10.
Final Thoughts
Overall this is an excellent B450 ATX motherboard that has all of the features that we would expect and some unique features that stand out. At the time of writing, this wasn't the most expensive board that made our list, but it also isn't priced so low that we would consider it to be a budget board. ASUS has a long history of producing reliable computer components for enthusiasts and gamers, so if you're looking for a great board, the ROG Strix B450-F might be right for you.
Pros
Best Overall M450 Board
Integrated IO Shield
Aura Sync RGB with Two Additional Headers
Great Integrated Sound
Cons
Price is Slightly Above the Level of A Budget M450 Motherboard
Does Not Have Built-In Wifi
---
#2 MSI B450 Gaming Pro Carbon AC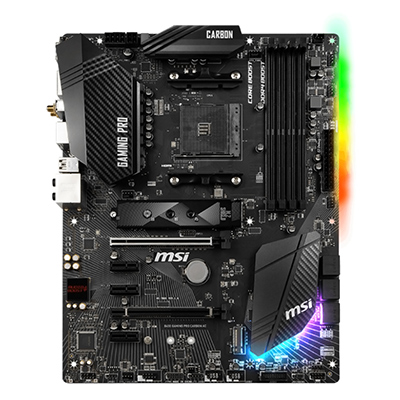 Features
2 Way AMD CrossFire
Integrated Wireless via Intel DualBand Wireless-AC 9260
Mystic Light RGB Lighting
The second board on our list is the MSI B450 Gaming Pro Carbon AC motherboard, which shares much of the same features as the ROG Strix B450-F, but also comes with integrated wireless. Modern wireless technology is so advanced that most people can't even tell the difference between being connected to the internet via an ethernet cable or wirelessly, as long as they have a respectable wireless router. Although this board does cost more than our number one choice, you have to think about the cost of adding a wireless card to compare the prices fairly.
This board does have slightly fewer rear-facing USB ports compared to the ASUS ROG Strix B450-F, which most likely isn't going to be an issue for most people as it still features a single USB type C port and two USB 3.1 ports. 3466 MHz memory is supported by XMP OC mode, but most people are likely to run their memory at the stock 3000Mhz or 3200Mhz settings due to the limited performance gain from overclocking memory. The included M.2 shield matches the motherboard appearance and is nice if you are planning on running an NVMe SSD, which we would encourage people to do considering their amazing performance.
The Pro Carbon does lack an integrated IO shield, which isn't a requirement, but more and more motherboards are including these because IO ports fit perfectly. They do look much more professional than the traditional snap-in metal IO backplates. The integrated RGB lighting does include multiple LEDs directly on the board and three RGB lighting headers (two 12V 4-pin connectors, one at the top and bottom of the board and one 5V 3-pins connector near the front panel connector pins.) The board itself is has a stylish appearance with heatsinks that have a carbon fiber-like appearance.
Final Thoughts
This board is almost identical to the ROG Strix B450-F in capability and has a few extra features like on-board RGB LEDs. The difference in price is quite comparable once you factor in the additional cost of adding in a wireless card, and not having that card occupy a valuable PCI-E lane could be a big plus for people who plan on running multiple video cards. Overall the Pro Carbon AC is a great looking board and will look great in any case with a side panel window.
Pros
Lighting Effects Look Good
Integrated Wireless AC Saves a PCI-E Lane
Board has Every Critical IO Port
Cons
Standard IO Port Shield
More Costly Than Other Options
---
#3 ASUS Prime B450 Plus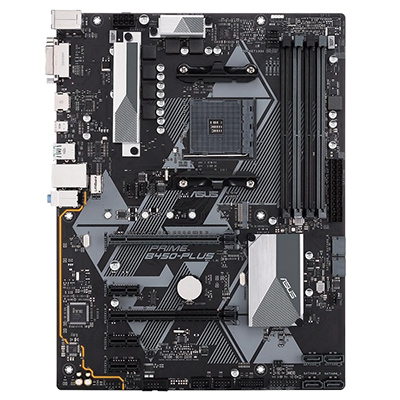 Features
AMD AM4 Socket w/ PCI-E 3.0 X16 Slot
Single 32Gb/s M.2 Expansion Slot
DVI and HDMI Port
The ASUS Prime B450 Plus is a less costly version of the ROG Strix B450-F that's missing some minor features. The board only has a single M.2 slot, a single Aura RGB strip header, only has six rear-facing USB ports, and has simplistic on-board audio compared. Unlike the B450-F, this board comes with a standard IO shield and has a much more standard visual appearance, which will look good in any case.
One thing that we find odd about this board is that it features a DVI video port and has no display port. This combination of ports might not be that big of a deal if you happen to have an older monitor. Of course, this is of no concern to people who plan to use a dedicated graphics card as you will be using the ports on the video card and not the ones on the motherboard. The heat sinks on the Prime B450 Plus are also notably smaller than the ROG Strix B450-F, meaning it's not likely as good of an option for people interested in overclocking.
This board supports CrossFireX, but there are only two PCI-E slots on the board, so you can only use two video cards. As you would expect, the front IO USB ports USB 3.1 Gen 2, there's two USB Gen 2 ports on the back IO plate, and there's also a single USB Type-C on the back. There are also three PCI-E 2.0 expansion slots for cards like audio cards or wireless cards, but one of the slots will likely be unusable if you have dual video cards due to the bottom card video card covering the second PCI-E 2.0 slot.
Final Thoughts
Overall, this is a great entry-level B450 board if you prefer ATX sized boards. For most people, this motherboard is going to have everything they want without having extra features that they are unlikely to need, such as a second M.2 expansion slot. It's not as feature-rich as the two previous boards that we discussed, but it also costs a significant amount less.
Pros
Best For a Budget Full-Sized PC Build w/ a B450 ATX Board
This Motherboard Has Everything that Most People Will Want For a Budget PC
Looks Good, Not Too Plain and also Not Too Flashy
Great Price from a High-Quality Brand
Cons
Single RGB Header
Single M.2 Expansion Slot
Needs to Have More Features to be the Best Overall
---
#4 Gigabyte B450 Aorus Elite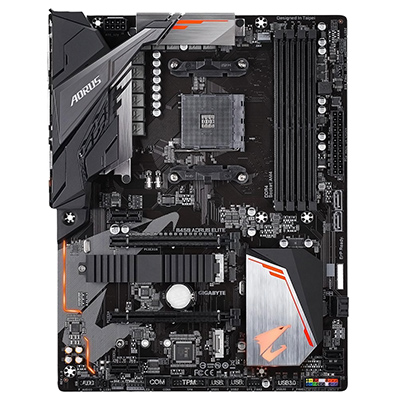 Features
The B450 Aorus Elite from Gigabyte is an enthusiast minded ATX motherboard that supports AMD Ryzen CPUs. At the time of posting, this board was slightly more expensive than the ASUS Prime B450 Plus and does not have any clear advantages other than having two M.2 expansion slots and an integrated rear IO shield. It does have a significant advantage, the position of the top PCI-E 2.0 slot is above the PCI-E 3.0 X16 slot instead of below it. Due to the fans of most video cards face towards the bottom of the case, the extra air space helps to reduce airflow restrictions to the GPU, which can occur when all of the slots are occupied.
The integrated rear IO panel looks great, but the board has an odd combination of video outputs, with a single DVI and a single HDMI. There's a total of eight USB connectors, with four 3.1 Gen 1 ports and four USB 2.0 ports. Unfortunately, this board does not come with any USB Type-C or USB 3.1 Gen 2 ports, which is disappointing. Since USB devices are backward compatible, that doesn't mean that you can use your USB 3.1 Gen 2 capable devices; they just won't transfer data at the maximum rate of 10 Gb/s.
Final Thoughts
We find this board to be a little bit strange when compared to others. There are some things that we like about this board, such as having two M.2 expansion slots and the rear integrated IO shield. Considering the price point of this board, the lack of USB 3.1 Gen 2 and USB Type-C connectors is a deal-breaker for us, but it might not be for others. The board looks great, performs well, and overall is an excellent B450 ATX motherboard for the price.
Pros
Two M.2 Expansion Slots
Integrated Rear IO Shield
PCI-E 2.0 Slot Placement Improves Cooling
RGB Lighting Headers
Cons
No USB Type-C or USB 3.1 Gen 2 Ports
No Display Port
Seems a Little Pricey
---
Conclusion
We hope that you enjoyed our list of the top B450 ATX motherboards and that we helped you choose the best.