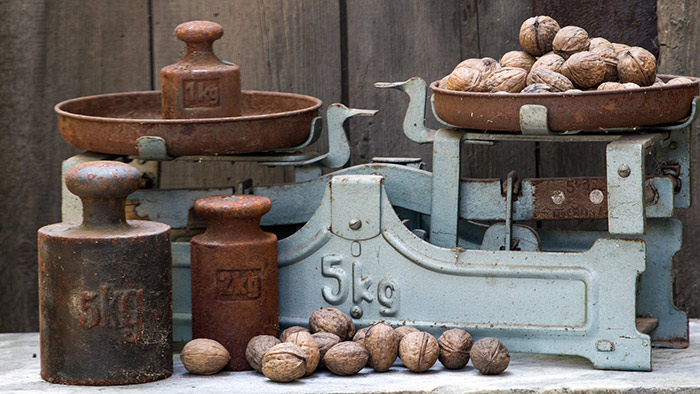 If you regularly send out mail, you know the value of having a postal scale, so that you can apply the proper postage to your letters or packages. Some people run a home business where they are regularly sending out packages to their customers. Because they send out so many packages, it can become a big hassle to wait in line at the post office.
Having your own postal scale not only saves you time, but it can save you money as well. We analyzed many different scales and have come up with a list of scales that we feel are a great value, and one of them should fit your specific needs.
Things to Consider when Buying a Postal Scale for Home Use
One of the main things to consider when choosing a postal scale is the average weight and size of the packages that you will be sending out. Typically, the larger the capacity of the scale, the less accurate it will be unless you spend a ton of money on a super-accurate scale. Another thing to think about is where your scale will be located when you operate it.
Some of the scales on our list have a remote screen that can be positioned so that they can still be read while the scale is weighing a package.
Top Home Postal Scales
#1 ACCUTECK All-in-1 Series W-8250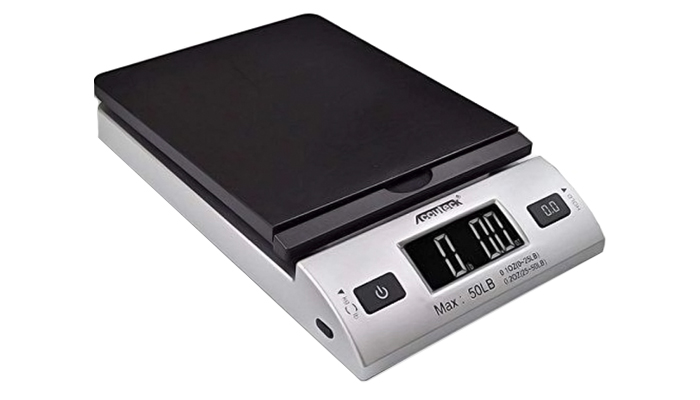 Features
50LB Maximum Weight
KG/LB Switch On Side
Batteries or Wall Outlet
We found Accuteck All-In-One to be an excellent scale for most people as it feature's a 50lb maximum weight and is very easy to use. We like the large, high contrast numbers on the screen are extremely easy to read. It also has a button on the left-hand side that allows you to select between pounds or kilograms.
You have the option of powering the device with a wall outlet adapter or three AAA batteries, and both options come included. The scale is super easy to use and only has two buttons, power and tare. Overall, this scale is cost-effective, simple to use, and has everything that most people would need for home use.
Pros
Simple to Use
Super Easy to Read Screen
Powered by Batteries or Wall Outlet
50LB Weight Limit
Cost-Effective
Cons
Bad with Large Packages
Could be More Accurate
The readout is in Pounds and Ounces, not Fractional Pounds
Plastic Construction
---
#2 Horizon SF-550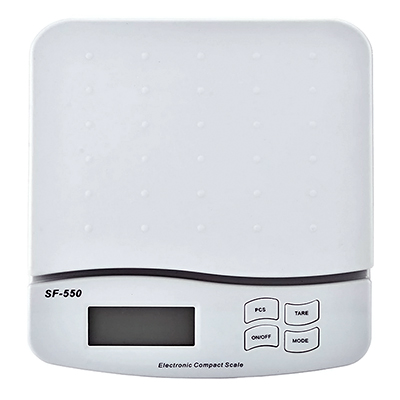 Features
Backlit LCD Screen
55LB Max Weight
.1 Ounce or 1 Gram Accuracy
The Horizon SF-550 V2 is another excellent low-cost scale that is ideal for home use. The unit is powered by either the two AA batteries or the wall outlet adapter, which are both included. The scale is accurate up to one-tenth of an ounce or one gram, which is adequate for postage or using it to measure cooking ingredients.
The 55LB max weight is more than enough, but it's a small scale, and it could be a challenge to balance large packages on it. The LCD screen isn't as easy to read as the Accutech, but it's backlit, so you should be able to read it in low light situations. The beige color leaves a little bit to be desired, but what it lacks in looks, it delivers in function at a low price point.
Pros
55 LB Max Weight
Useful Part Counter Feature (PCS Button)
Backlit LCD Screen
Easy to Use
Cost-Effective
Cons
Small Size Makes it Difficult to Weight Large Packages
Screen Could be Easier to Read
Could Look Nicer
Plastic Construction
---
#3 Accuteck A-ST85C Heavy Duty Postal Shipping Scale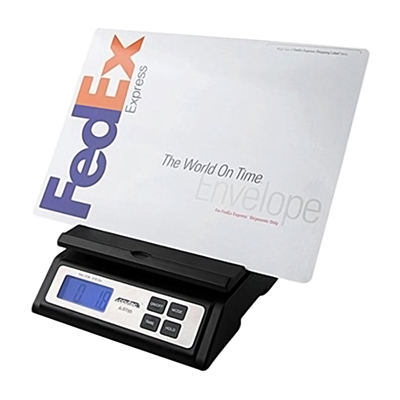 Features
85 LB Max Weight
Backlit LCD Screen
Folding Envelope Tray
The Accuteck A-ST85C is a heavier duty version of the other Accuteck model that we covered previously. It features an increased maximum capacity of 85LB instead of 50LB. There are a few other differences, including a tray that folds outwards, allowing you to balance a large envelope on it.
The screen for this model is very easy to read and is backlit, allowing you to read it in dimly lit rooms. This scale is also slightly larger and is accurate up to .2 ounces. This model comes with a 9-volt battery and an AC adapter like the smaller one.
Pros
Folding Tray for Envelopes
Backlit LCD Screen
85LB Max Capacity
Battery or AC Powered
Cons
It Would Be Nice if You Could Disable Auto Shut Off
Too Small for Large Packages
Hold Button Should Last Longer
---
#4 Accuteck ShipPro W-8580-110-Black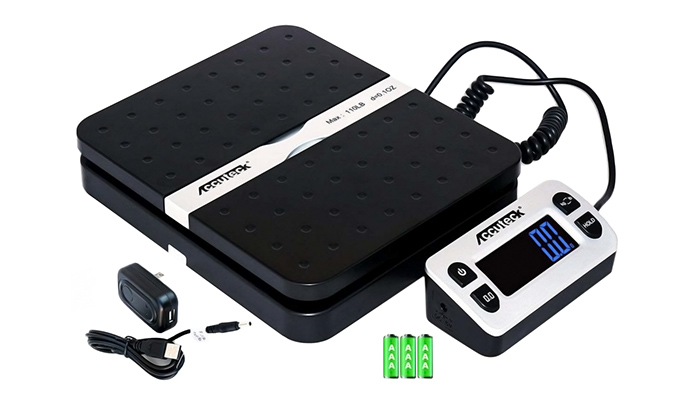 Features
110LB Weight Limit
Detached Screen
Easy to Read Display
This model is the Accuteck ship pro W-8580, which features dual flip-up mailer holders, which also help to weight soft packages, such as tee-shirts accurately. A key feature of this model is that the viewing screen is connected to a cable, allowing you to weight large packages and read the screen easily. The screen is backlit and has large numbers that are very easy to read
It requires 4 AAA batteries or an AC adapter, both of which come included. One thing that's quirky about this model is that the power cord has a USB connector, but you can't use it to transfer data to another device. With a 110LB weight capacity, this model is great for weighing medium to large-sized packages. We feel it's a little bit on the small size if you routinely weight large packages.

Pros
.1 Ounce Accuracy
Cost-Effective
110LB Capacity
Remote Screen for Easy Viewing
Backlit Screen
Cons
Costs Slightly More than Other Models
The Cord for the Screen Sometimes Gets in the Way
Would be Nice if it Was Slightly Larger
---
#5 Smart Weigh Digital Shipping and Postal Weight Scale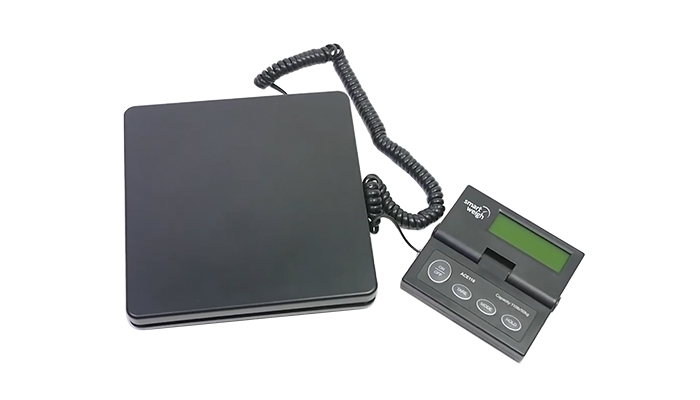 Features
110LB Capacity
Remote Viewing Screen
.1 Ounce Accuracy
This scale from Smart Weight is an excellent choice that is similar to the AccuTeck ship pro. One thing that we didn't like about this scale is that the numbers on the screen are slightly smaller, but it's still an LCD backlit screen. The screen does flip up so that you can easily view the screen while it's on the floor, or if it's on your desk facing you.
The build of this scale is also very sturdy and feels like it should be able to weight 100 pounds. There are two ways to power the device similar to the other scales in our list, and you can either use the AC adapter or two AAA batteries.
Pros
110LB Max Capacity
Remote Screen that Tilts
Easy to Read Backlit Screen
Sturdy Construction
Cons
No Folding Envelope Holders
No Part Counter Function
If There are Ten or More Ounces to Display, the Unit Rounds the Ounces Down
---
#6 Accuteck A-BC200 200LB Shipping Postal Scale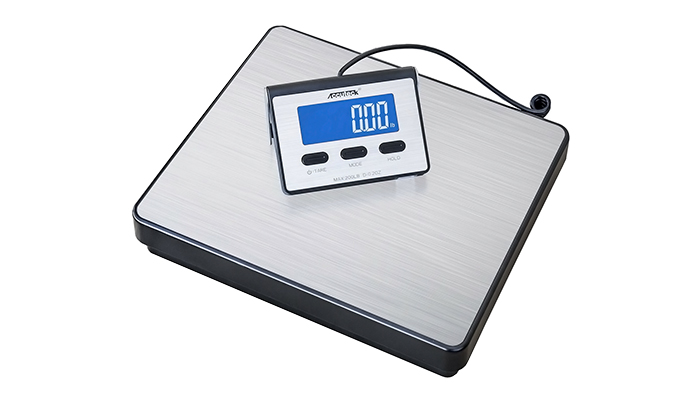 Features
200LB Max Capacity
Heavy Duty Scale
Remote Viewing Screen that Tilts
This is the largest of the AccuTeck scales in our review, and it features a maximum capacity of 200LB. If you routinely weight large packages, this scale makes an excellent choice. The reason that we like the AccuTeck scales is due to their very easy to read screens and great prices.
This model is no different and has a backlit LCD screen that connects to the scale with a wire. This is very useful for weighing large packages as it allows you to move the screen into a position that is not obscured by the box. As with the other models, you have the option to use the included 2 AAA batteries or the AC cable to power the unit.
Pros
Stainless Steel Surface
200LB Capacity
Excellent Screen
Great for Large Packages
Large 9.45 x 11 Inch Platform
Cons
More Expensive Than Other Models
Scale is Heavy
Not the Best Choice for Small Envelopes
---
#7 Smart Weigh Digital Heavy Duty Shipping and Postal Scale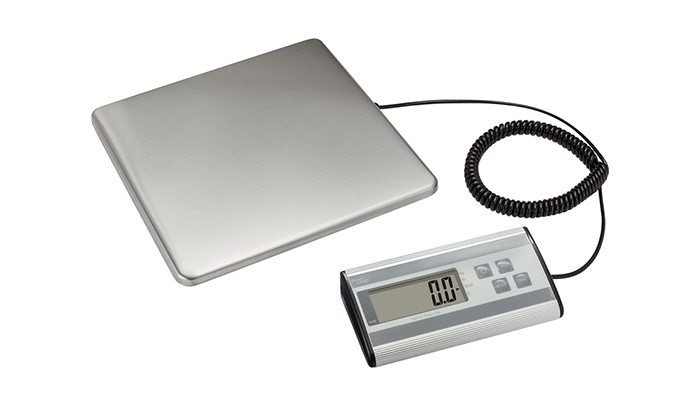 Features
440LB Capacity
Large Platform
Remote Viewing Screen
This scale from Smart Weigh is the scale with the highest capacity scale on our list. The ACE200 features a capacity of up to 440LBs, which should be more than enough for home-usage, depending on what you need to weight. It has a large 10.6 by 10.6-inch platform that helps stabilize your package while it is weighed.
There's also a parts counter button that allows you to quickly count the number of parts that are on the platform. To use it, you place one part on the scale and press the PCS button. Then when you put parts on the scale, it will count the number of them by weight.
One thing to consider is that it's only accurate to about 6 ounces. If you're looking for a quality scale and need the flexibility to weigh heavy packages, this scale might be for you.
Pros
440LB Capacity
Remote Viewing Screen
Looks Great
Counts Pieces
Low Cost
Cons
No Mail Flap
The Screen is not Backlit
Not Accurate With Small Packages
---
The Value of Having a Great Postal Scale for Home Use
Finding the right postal scale can be a little bit of a challenge as there are many different models to choose from. Small scales are affordable and great for envelopes or small packages, but it can become tough to read the screen when weighing large packages.
Other features may be useful to you, such as a hold feature or a part counter feature. Since you intend to use these scales for home use, we tried only to pick scales that we felt were cost-effective. We hope this guide helped you find the right postal scale for you.