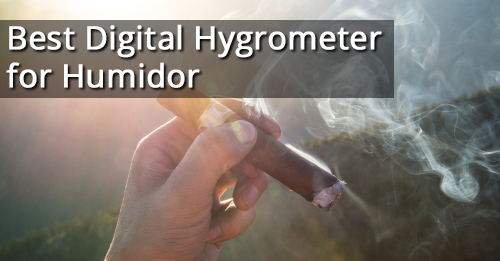 Cigar lovers use hygrometers to measure the moisture (or humidity) and temperature inside their cigar box.
It is important that cigars be kept at a consistent temperature and humidity to preserve their flavor.
Although the ideal humidity and temperature varies from cigar to cigar, they are generally kept about 70 % humidity and 70 degrees Fahrenheit (21 Celsius).
Since small variations in humidity or temperature can cause non-ideal conditions for cigars, it's important that the hygrometer be easy to read and accurate, which is why a digital hygrometer is recommended.
Below, we have compiled a list of our of the best digital hygrometers for humidors, and we hope that you can find one that is perfect for you.
Things to Consider When Buying a Digital Hygrometer for your Humidor
One of the most important things to look at is the accuracy of the hygrometer.
Some models are accurate to up to plus or minus one percent of relative humidity and others are less accurate.
Since cigars are sometimes stored for long periods of time, getting the humidity level wrong is a big problem that can ruin the cigar.
Another important thing to think about is the physical size and shape of the unit, because some of these products are larger and will take up valuable real estate in your cigar box.
The last thing to think about would be the appearance of the hygrometer.
If you have a collection of expensive cigars, a cheap looking model is likely not going to look very pleasant when you open your cigar box to show your friends.
Digital Hygrometers Reviews
#1 Inkbird ITH-10 Digital Thermometer and Hygrometer
Features
Our Rating
Price

3.94 x 1.25 x 0.39 Inches
Accurate Readings
Easy to Use

Our Rating
Price
Inkbird ITH-10 Review
This digital thermometer and hygrometer from Inkbird, has all of the functionality that you need at an affordable price.
The easy to use device only has three buttons, one for cycling between Fahrenheit and Celsius, one for displaying the minimum values, and one for displaying the maximum values.
The LCD screen features large numbers that are easy to read that clearly indicate the temperature and humidity levels with a range of 23 degrees Fahrenheit to 140 degrees Fahrenheit and relative humidity between 30% and 90%.
The device is powered by a common CR2032 battery, which can be purchased at most drug and convenient stores.
Overall, we like this device because of it's shape, which fits nicely next to your cigars in your cigar humidor, it's easy of use, and relatively low cost.
Pros
---
Fits Well Into Humidor
Simple Functionality
Easy To Read Screen
Cons
---
Could Be More Accurate, Only +/- 3% Humidity Accuracy
#2 Boveda Butler Bluetooth Hygrometer
Features
Our Rating
Price

Remotely Monitor on Smart Phone
Logs All Temperature/Humidity Changes
Settings are Customizable

Our Rating
Price
Boveda Butler Review
The Boveda Butler Bluetooth thermometer is the ultimate digital hygrometer for cigar connoisseurs.
Although this device does not have a screen to display information, it connects via Bluetooth to your smart phone, and provides detailed information to a special Boveda App.
The app is capable of sending real time alerts and records all humidity and temperature changes over time.
It also includes a one-step calibration kit, which is useful for calibrating the device in 24 hours.
One thing about all of the other hygrometers on our list, is that in order to be able to check the temperature or humidity, you have to open your cigar box to be able to see it.
The problem with that is, once you open the box, you allow fresh air into it, which can change the humidity level inside.
The ability to check the temperature and humidity through the app, solves this problem.
We really like this product, with it's on real downside being that it was the most expensive product on our list at the time of writing.
Pros
---
Best for Cigar Lovers
Check Humidity without Opening Humiditor
Includes One-step Calibration Test
#3 Cigar Oasis Caliber IV
Features
Our Rating
Price

Very Accurate
Pre-calibrated
Averages High/Low Over Three Days

Our Rating
Price
Cigar Oasis Caliber IV Review
The Caliber IV from Cigar Oasis is an excellent digital hygrometer with a basic design that's easy to use.
The device comes pre-calibrated out of the box and can be recalibrated by the user.
There's a toggle switch on the top of the device that allows you to switch between Farenhet and Celcius.
There are only two other buttons on the device, one being the set button and the min/max clear button.
We like this device because it's simple, accurate and effective.
Pros
---
Accurate Humidity Sensor, up to +/- 1%
Easy To Use
Pre-Calibrated
#4 Cigar Oasis Caliber 4R Gold
Features
Our Rating
Price

Looks Great
Highly Accurate
Easy to Read

Our Rating
Price
Cigar Oasis Caliber 4R Gold Review
This digital hygrometer from Cigar Oasis features a combination of a digital temperature readout, with a digital hygrometer display that is digital, but looks like an analog hygrometer.
The humidity sensor is accurate up to plus or minus 1% and the device can be recalibrated by the user.
The Caliber 4R Gold looks excellent and with it's mix of gold trim and it's hybrid display.
The hygrometer is color coded, which is extremely useful if you happen to forget which humidity levels are desirable for your cigars.
Overall, we like this model because it looks sharp and professional.
Pros
---
Analog Looking Dial Looks Great
Easy to Use
Accurate up to +/- 1% Humidity
Cons
---
Cost More Than Other Cigar Oasis Model
#5 Xikar PuroTemp
Features
Our Rating
Price

Basic Hygrometer with Magnetic Attachment
Small and Fits Nicely into Humidor
Simple Design is Easy to Use

Our Rating
Price
Xikar PuroTemp Review
The Xikar PuroTemp digital hygrometer is not specifically designed for cigars, but is small in size and should have no issues fitting inside your cigar box.
Out of all of the products on our list, this is absolutely the simplest one to use, as it only has a toggle to switch between Fahrenheit and Celsius.
The brushed aluminum face looks good, but we wish the numbers would have been bigger or the screen be backlit to make them easier to read.
One problem that cigar lovers may take issue with, is that this model is only accurate up to plus or minus two degrees at 70% humidity.
Pros
---
Accurate up to +/- 2% Humidity
Very Simmple to Use
Fits Nicely Anywhere
#6 Prestige Import Group Digital Hygrometer
Features
Our Rating
Price

Digital Screen
Mountable
Built-in Calibration

Our Rating
Price
Prestige Import Group Digital Hygrometer Review
This hygrometer from Prestige Import Group, features a large hybrid digital screen similar to the Caliber 4R Gold.
It's accurate and precise with an accuracy of plus or minus 1% of relative humidity.
We feel that this is a great hygrometer for any cigar humidor, but would have liked the screen to be a little clearer when reading.
The humidity level is color coded for cigars humidors like the Caliber 4R Gold, but just doesn't look as sharp.
If you're looking for an alternative to the Caliber 4R because you feel that it's too pricey, this model might be for you as it was slightly cheaper at the time of our post.
Pros
---
Includes Battery
Accurate to +/- 1% Humidity
Looks Good
Cons
---
Caliber 4R Has an Easier to Read Display
#7 AikTryee Mini Hygrometer – 2 Pack
Features
Our Rating
Price

Comes in Two Pack
Very Small
Low Cost

Our Rating
Price
AikTryee Mini Hygrometer Review
Compared to the other options on our list, these hygrometers from AikTryee only really have one thing going for them, they had the lowest price of any of the models on our list, at the time of posting.
You do get two of them, which is nice, but they're only accurate up to plus or minus two percent of relative humidity.
The screen is easy to read and the unit itself is quite small, making it useful for many applications.
There are no buttons of any kind on the unit, meaning it's extremely easy to use, but there's also no way to recalibrate it.
As far as their appearance overall, they leave a lot to be desired, but they are small, so they won't take up much real estate in your cigar box.
Pros
---
Accurate to +/- 2% Relative Humidity
Fits Just About Anywhere
Great Price
Comes in Pack of Two
Cons
---
Doesn't Look the Best
Not Specifically Designed for Cigar Humidors
Conclusion
There are many different options to consider when purchasing a digital hygrometer and that's why we've picked through dozens of different models to find the very best options for your cigar humidor.
We hope that you enjoyed reading our list and that it helped you find the perfect choice.