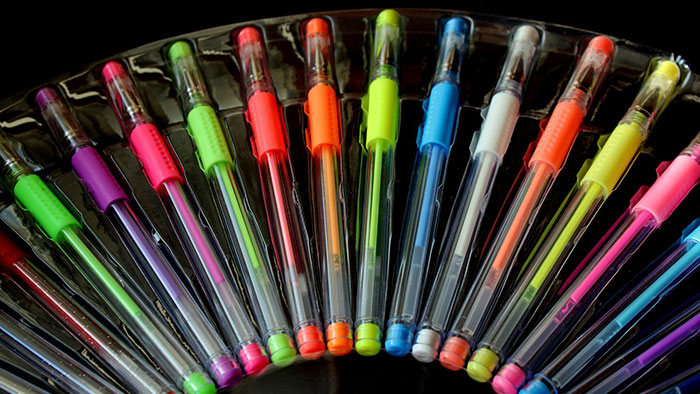 If you want your next coloring masterpiece to look it's best, you need high-quality gel pens that come in every possible color imaginable. Not only do kids love to spend hours doodling, but adult coloring books have also taken off as a great way to relieve stress and explore your creativity. Gel pens are superior to colored ink pens, as they can be used on a variety of surfaces, not just paper.
Since the gel is much thicker than ink, it also works great on dark color paper, so you're not just limited to using white paper. Another big advantage of gel pens is that they can be blended together to form new colors. Gel pens also come in types and colors that ink pens cannot, just as glitter or metallic gel pens.
Things to Consider When Buying Gel Pens for Coloring
The first thing to consider would be what type of gel pens do you want as gel pens come in different varieties like metallic, glitter, and pastel. Many gel pen sets also come with refills, which doubles the piece count off the set, and you may notice that many sets suggest that they have double the number of pieces because they include refills.
Whether or not you want refills can be important if you use the pens a lot or are just planning on using them for a few pieces. Some pens also come with a comfort grip, which might be important for certain people with hand problems.
Top Gel Pens
#1 Feela 180 Gel Pen Kit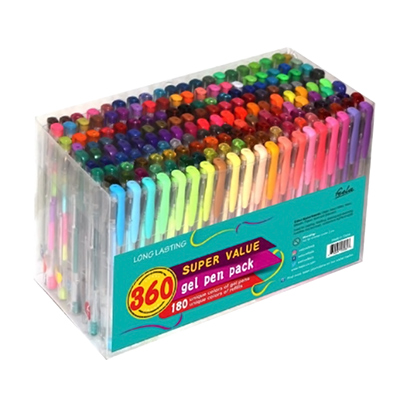 Features
Massive 180 Pen Set
Huge Assortment Includes Many Color Types
Great Value w/ 360 Total Pieces
These gel pens from Feela come in a 360 piece kit, which includes 180 unique pens and 180 refills. This kit is complete and includes glitter, neon, neon + glitter, metallic, pastel, swirl, and standard. The tip size varies between .6mm to 1.0mm, depending on the gel type.
Since this a very large set, there are nine separate trays, and the refills come in bags that are clearly labeled by their number. This set was the most expensive set on our list at the time of writing this article, but we liked it the most because it felt the most complete and offered unique pens.
Pros
Huge Assortment
Great Value
Refills Included
Cons
---
#2 Reaeon 100 Gel Pen Set
Features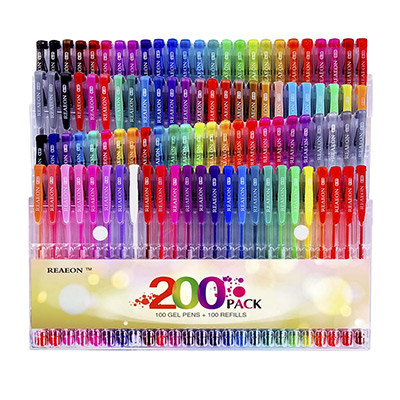 100 Gel Pens + 100 Refills
Variety of Types
Refills Match Numbers on Pen
This gel pen kit from Reaeon includes 28 glitter, 18 metallic, 16 neon, 15 pastel, 14 neon+glitter, 6 swirl, 3 classic pens, and there are 100 total pens with matching refills. The tips of these pens are between .8mm and 1.0mm and produce a smooth application of the gel. Reaeon gel pens are designed to last longer than most of the alternatives and contain approximately 20% more gel.
Each pen and refill is clearly labeled, so you don't accidentally mix up the pens when refilling them. These pens also come in a storage box that is useful for keeping all of your pens together.
Pros
Great Variety of Colors and Types
Each Pen Comes w/ Matching Refill
Nice Storage Box
Cons
Would Be Nice if the Pens had a Soft Grip
---
#3 Shuttle Art 120 Glitter Gel Pens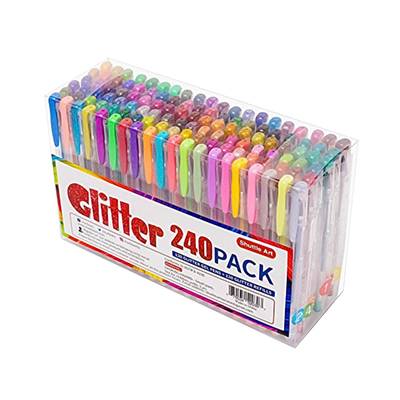 Features
Huge Pack of Glitter Pens
Comes with Refills
Best For Glitter Lovers
The pack from Shuttle Art features 120 glitter pens and is the largest glitter gel pen assortment on our list. If you like glitter pens as much as we do, you'll love this kit as there are just so many different colors to choose form. The set comes in a nice see-through storage box, which also serves as a nice display box.
The pen tips range from .8mm to 1.0mm depending on the color. The kit also comes with 120 refills for each of the pens, one for each of the colors, which come in 8 numbered bags.
Pros
Perfect if All You Want Is Glitter Pens
Nice Box
Massive Variety
Cons
Only Glitter Pens
No Soft Grip
---
#4 Tanmit 120 Color Gel Pen Pack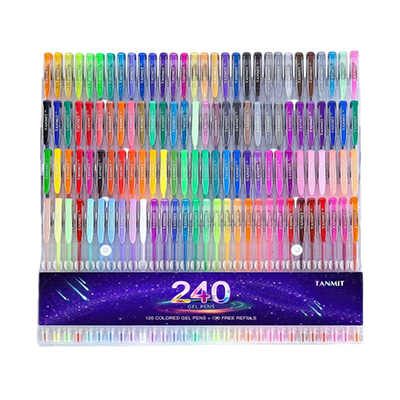 Features
This gel pet set from Tanmit features 120 different pens that come in a variety of types, including 28 glitter, 19 neon, 16 pastel, 16 fluorescent, 11 dye colors, 6 rainbow, and 4 standard pens. Each color comes with its own refill, and there is a number on both the pen and the refill cartridge to indicate which one goes to each.
The pen tips range from .6mm to 1.0mm, depending on the ink type and provide a consistent flow of ink. We really link this assortment of inks as it provides a bunch of different options for different types of art pieces.
Pros
Great Variety
Comes with Refills
High Quality
Cons
---
#5 Aen Art 100 Color Glitter Gel Pens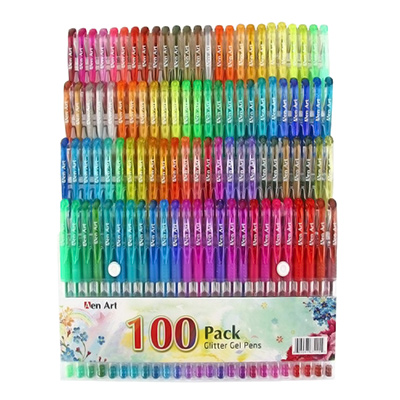 Features
100 Glitter Gel Pens
Comfortable Grip
Vibrant Colors
This is another set of glitter pens that features 100 distinctly different colors. One thing that sets these gel pens from Aen Art apart from the other options is their easy to hold comfort grip on each of the pens. This is great if you plan to be coloring for long sessions or have difficulty holding a pen.
These pens are designed to last a long time, but the kit does not come with refills.
Pros
Large Assortment of Glitter Pens
Soft Grip
Great for Glitter Pen Lovers
Cons
---
#6 Castle Art Supplies 100 Gel Pet Set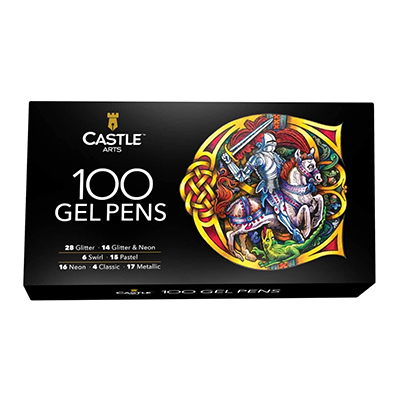 Features
Free Flowing & Smooth Ink
100 Pack of Gel Pens
Handy Carrying Pouches
This kit from Castle Art Supplies features an excellent variety of different colors and pen types. There are 28 glitter, 14 glitter+neon, 5 swirl, 15 pastel, 16 neon, 17 metallic, and 4 classic ink colored pens. The quick-drying ink helps prevent smears and smudges, which is perfect for drawing, scrapbooking, and coloring.
This pack features a nice clear carrying case for keeping your pens organized. One important thing to note is that this set does not come with refills.
Pros
High Quality
Great Assortment
Clear Plastic Pouches Help Keep Pens Organized
Cons
---
#7 Cedar Markers 100 Coloring Pens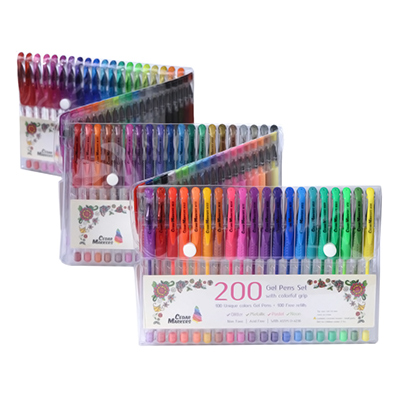 Features
100 Different Markers
High Quality
Refills Included
These pens from Cedar Markers have a comfortable grip, which makes these pens great for everyday use. In the kit, you get a variety of glitter, glitter+neon, neon, pastel, metallic, and classic colored pens. The .8mm to 1.0mm pen tip size is perfect for coloring and writing.
The kit also includes refills which are clearly numbered and correspond to each pen color. We really like this kit because of the combination of refills and comfortable grips.
Pros
Extra Refills Available
Soft Grip
Easy to Match Refills to Pens
Cons
Costs More than Other Options
---
#8 Chromatek 30 Gel Pet Set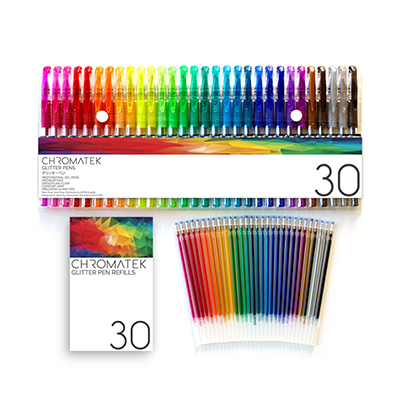 Features
30 Glitter Pens
Refills Included
Great For Coloring
This is a smaller kit of glitter pens from Chromatek, with only 30 different colors. Included in the set, you get 1 refill per each per pen, with both the pens and the refills being clearly labeled so that you don't accidentally mix the colors up. The included carrying pouch is simplistic and helps you keep your pens organized.
The pens also have a comfort grip, which feels great during long coloring sessions. This kit is an excellent choice for people who are just looking for a simple set of glitter gel pens.
Pros
Refills Included
Handy Carrying Pouch
Soft Grip
Cons
Small Assortment, Only 30 Colors
---
#9 ColorIt Gel 48 Gel Pens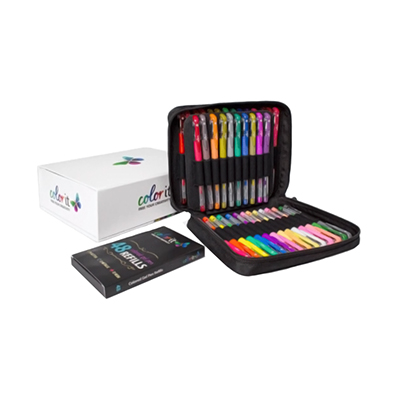 Features
Great Looking Travel Case Included
48 Artist Quality Pens
Matching Refills
These pens from ColorIt stand out due to their high-quality travel case that makes this kit a really nice gift. There are a total of 48 pens which cover all of the essentials, 24 glitter, 12 metallic, and 12 neon. The pens have a comfortable grip and have the name of the color written on the side.
Included are 48 refills, that are coded to match each pen to prevent mix-ups. At the time of posting, this kit was one of the pricier options on our list, but we think it would make an excellent gift for anyone who enjoys coloring or drawing.
Pros
Nice Case to Keep Pens Organized
Soft Grip
High Quality
Great for Gifts
Cons
On the Pricey Side
Could Have More Colors
---
#10 Lineon 108 Color Gel Pens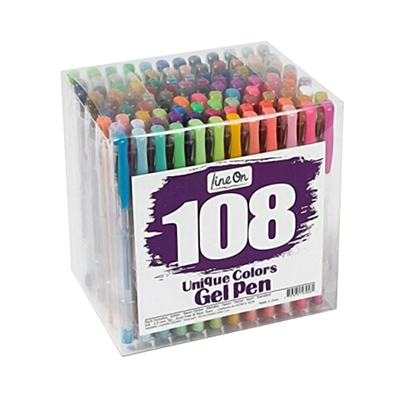 Features
108 Unique Colors
Nice Clear Box to Organize Pens
High-Quality Ink
This pack from Lineon contains 28 litter, 17 neon, 14-glitter+neon, 19 metallic, 19 pastel, 4 swirl, and 7 standard pens. These pens write smooth and have a tip size of .8mm to 1.0mm. They come in a clear plastic box, which saves space and helps you to keep your pens together.
We would like this kit a lot more if it came with refills or the pens had comfortable grips because the price is very reasonable.
Pros
Great Price
Good Variety
Plastic Cube Fits Nicely on Shelves
Great Price
Cons
No Included Refills
No Soft Grip
---
Conclusion
As you can see, there are many different options available when considering which gel pens to buy. Some people really enjoy glitter pens and other people are interested in large complete sets. Depending on whether you want refills, a comfortable grip, or a simple pack of gel pens, we hope this list helped you find the best option for you.